Altura Healthcare Studies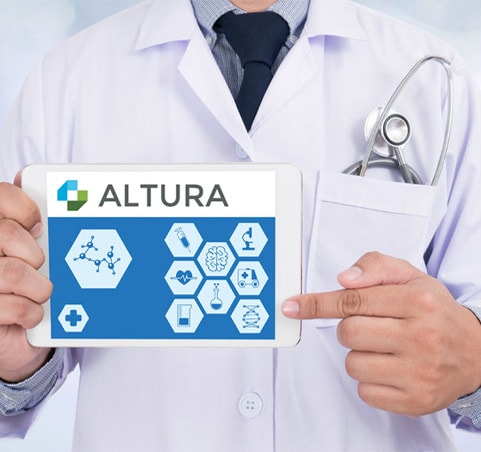 Applications/Services Provided
SEO, Website, HP Studies™ Mobile app for iPhone/Android/Desktop, App Admin Portal
For more information on Altura, please visit: www.alturastudies.com
The Challenge
Altura founder, Peter Fronte, sought a way to put information about studies and trials in the hands of healthcare providers and organizations in an automated way that provided real time access. At the time, Altura was providing this service manually, through a cumbersome set of processes and paper-based transactions. Altura had reached an operational ceiling, which was restricting them from expanding their reach and attracting potentially lucrative contracts with studies sponsors, such as leading pharmaceutical companies. By automating the processes, Altura could achieve greater traction within the healthcare communities and help position Altura as a leader in providing clinical trial and research data. This would help them, not only continue to scale up, but to secure prime contracts with clinical trial sponsors, such as leading pharmaceutical companies and testing facilities.
The Goal
Develop a mobile app and platform that would connect health care providers (HCPs), as well as non-healthcare providers (Non-HCPs) instantly to clinical trials and research studies being conducted nationwide. Develop a platform that would connect, seamlessly, to the Altura Information Management System (AIMS) where Altura logs and maintains information emanating from nationwide research organizations, testing facilities and clinical trials sponsors.
The Results
The HCP Studies application has enabled Altura to
Provide HCPs and Non-HCPs with a mobile app that allows them to build patient loyalty and position them as providers of key information and timely industry updates relevant to specific trials and surveys.
Provide Altura with a significant competitive advantage in the medical research industry, putting them on the radar of leading clinical trials sponsors, such as Lilly, Johnson and Johnson, to position themselves to scale up to provide their services to the global marketplace.
Development Snapshot
Sunvera worked with Altura to develop a design framework and identify the best tools to create the core infrastructure and modules.
Duration of project: 15 months to complete.
© 2022 Sunvera Software. All Rights Reserved.