We bring digital experiences to life by developing mobile apps, integrating cloud migration solutions and more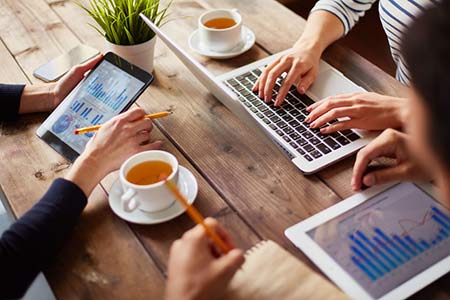 Pushing creativity to new heights
SunVera Software creates unique digital experiences for individuals, start-ups, small businesses and Enterprise customers. These experiences span designing and developing mobile apps, supply chain solutions, financial platforms, cloud migrations and building full stack E-commerce sites. Our goal is to lower costs and improve efficiency. With traffic shifting towards mobile phone use, we focus on giving you an online presence with a strong mobile interface. Our services are tailored to build targeted traffic to your website & mobile app to grow your business. We make it happen within budget and time that constantly ensures a high ROI. Our custom software development team has helped many individuals, entrepreneurs and start-ups bring their ideas to reality within timelines and at an affordable cost.
OUR EXCITING JOURNEY CONTINUES…
August,
2012
Founded in an Irvine garage
October,
2013
Introduced Sunvera marketing automation solutions for small businesses
March,
2014
Sunvera launches Healthcare Solutions® for physicians, pharmaceuticals and CROs
October,
2015
Sunvera releases the first mobile video marketing platform for rapid content creation
March,
2015
Sunvera Research & Development Center opens in New Delhi, India
March,
2016
Sunvera launches Custom Software Development Services for Startups and Small & Mid Market Customers to enable rapid deployment and high ROI with a lean budget.
September,
2016
Sunvera Compliance Solutions for Healthcare (HIPAA) and Financial Services (GLB, SOX) is introduced in the market.
January,
2017
PromoMyApp, the first platform for getting your mobile app discovered, is introduced
June,
2017
Expanding team competencies for serving the Emerging Technologies market (Chatbots, Machine Learning, On Demand, Artificial Intelligence, Augmented & Virtual reality) & IOT
October,
2017
Sunvera opens offices in Phoenix, AZ
July,
2017
Sunvera acquires GLTYR and SCHOOLFLICKER to expand portfolio of solutions in the Education vertical
Our Proven Methodology Drives Results
1
Plan
Involves 1:1 meetings, workshops, and webinars with our customer to accurately determine their needs and current situation. We discuss technology and marketing as well as roles and goals to define the scope of the project and agreement deliverable.
2
Design
The two basic principles here are "Keep it Simple" and "Keep it Elegant." Our team of experts use their extensive knowledge of the best practices and design patterns to produce the best in class solution design that is simple, powerful, scalable, and easy to use. Our design phase includes Prototyping, Functional Design, Technical Design, and System Architecture.
3
Develop
Our robust development and building process go through multiple iterations of the define, design, develop, and deployment stages many times before the final product is where everyone desires. We focus on Application Coding, Testing/Quality Assurance, User Documentation, Program Documentation and Change Management.
4
Test
Our rigorous testing cycles involve the latest versions of production data and all internal and external client operations processes. The steps will include Hardware/Software Installation, Data Conversion, and Full Load Testing.
5
Deploy
Deployment comes with a fully running site, database set up, analytics, SEO, Content Management, Data Integration, Reports, and Training Plan.
© 2022 Sunvera Software. All Rights Reserved.