San Juan Hills golf course
Konsier and golf course deployments
San Juan Hills Golf Club has teamed up with Konsier to provide their customers with a mobile automated marketing application for informing them of the latest promotions and offers that are available. Using state of the art beacon technology San Juan Hills Golf Club is able to deliver texts, email and push notifications to their customer's smartphones in real-time.

With multiple transmitting beacons strategically placed in locations around the golf facilities they can ensure coverage for timely message delivery. Not only do the beacons deliver content to the customer's smartphone but the message is uniquely tailored to the current location of the customer.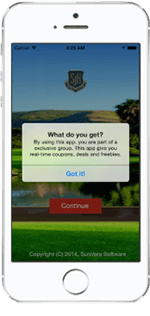 For example once they reach the 9th Tee, a beacon is triggered and their smartphone "wakes up" displaying a lunch promotion at the snack shack or the bar-b-que option at the 10th tee. Similarly to the 9th tee, a message will trigger as they reach the 18th tee with a pop-up message on their smartphone informing them of the 19th Sports Bar beverage promotion. The options for engagement are endless but one must be aware of the nuisance factor so the system is designed to limit the message delivery to once per hour per message.
As you can see from this facilities layout the beacons and their associated promotional offers are all unique and location specific with many opportunities for customer engagement.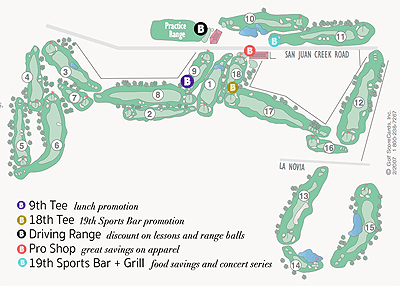 Beyond the onsite engagement the Konsier automated mobile marketing app provides for post-visit engagement and communications. This can be a simple email announcing an upcoming event or a more elaborate two-way information exchange between the system and the customer for their reservations or even their purchase of tickets to the event. The Konsier automated marketing platform is dynamically triggered based on the customer response and/or action taken for numerous pre-programmed messages and the desired outcomes. By downloading the app, registering and allowing the system to engage the customer with pertinent content, Konsier delivers focused and timely information specifically tailored to the customers needs.
© 2022 Sunvera Software. All Rights Reserved.