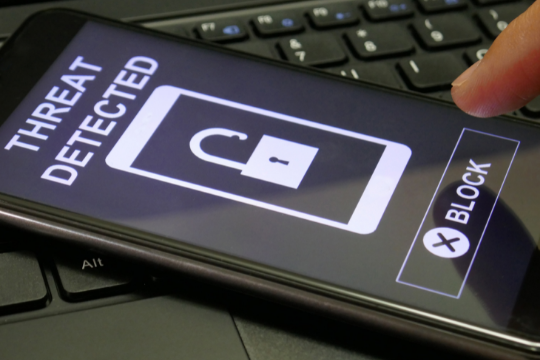 As an online business grows, its security risks can grow as well. However, with the appropriate security strategies in place, even an online business can have a strong defense against security threats.
The sheer number of security breaches hitting businesses every day only further stresses the importance of having a strong and smart security strategy.
How An O2O Model Reduces Security Threats
One of the most effective ways to combat the security threats that come with having a vast amount of data is by deploying O2O (online-to-offline) solutions such as QR codes and RFID (radio frequency identification).
QR Code: A QR code is a machine-readable matrix of black and white squares. QR codes are used for high-speed data transfer, linking to websites or even embedding business logins in small areas.
RFID: An RFID tag is a radio frequency identification device that consists of a small chip with an antenna. The purpose of the technology is to track goods.
QR codes and RFID tags both have a wide range of security features. For example, QR codes can be read by smartphones while RFID tags need to be scanned with the appropriate reader. In addition, QR codes do not include any back-end software or data storage locations that hackers can exploit, meaning that they're much harder to hack into than RFID tags, which can store and transmit information.
But That's Not All!
Although the O2O technologies mentioned above are helpful for reducing security threats, the sad truth is that businesses that have an O2O model are still exposed to a number of cyber threats.
Here are some examples of how online-to-offline businesses may suffer from cyber threats:
Man-in-the-Middle Attacks
In a man-in-the-middle attack, hackers intercept an ongoing communication session between two entities. In this case, the business server and your device. In order to do this, the hacker must be able to control the communication channel between the two entities.
For example, if a business owner sets up a free Wi-Fi hotspot in the store and asks customers to connect their devices to it so they can benefit from it as well, a man-in-the middle attack could take place if a hacker sets up a free WiFi hotspot with the same name and logo of the business.
When a customer connects to a fake hotspot, their device will think it's actually connecting to the original business's server, but in fact the connection is between an attacker's device and your device, allowing them to intercept all sensitive information transferred between your device and the server.
Website Gets Hacked
The business's website can be targeted by hackers who try to inject malware, ransomware and/or other types of viruses. Once the website is infected, all visitors who go there will be exposed to these threats.
Ransomware attacks can also target mobile devices through malicious links within phishing emails. If your business's website gets hacked, you must act quickly and contact an information security company for help with cleaning the malware off of the website and any connected systems.
Third-Party Apps at Risk
If the business uses third-party applications for its daily operations, then it opens itself to vulnerabilities. This is because these apps are not owned by the business, which means it can't control them all. Third-party applications also have a history of being hacked, so the potential issues with these types of apps are never too far away.
If the business's website gets hacked, all third-party apps that are connected to it can also be exposed. Hackers will identify these third-party applications and try to exploit them one by one until they find a way into the system.
What Can Your Business Do to Combat These Risks?
Even though the business model is a great way for companies to grow, it also opens businesses up to a number of security threats.
In order to stay protected from these risks, online-to-offline businesses can follow these guidelines:
Maintain a strong backup system for your data and information.
Use complex passwords and two-factor authentication whenever possible.
Keep an eye out for suspicious activity from any device on your server.
Use a security solution that offers DNS protection and the ability to block IP's and domains.
O2O solutions can help businesses maintain security by knowing their customers better. Knowing who they are is probably the most important factor in understanding what will make them interested in particular goods or services. By keeping up with technologies that offer new ways to collect and use data, an online-to-offline business can continue on a path of growth while being proactive about security.
Sunvera Software develops next-level software applications from start-to-finish. We are a premier software and mobile app development agency specializing in healthcare mobile app development, custom mobile app development, telehealth software, sales dashboards, custom mobile app development services, retail software development, supply-chain software, ecommerce, shopify, web design, iBeacon apps, security solutions and unified access software.
We are proud partners with Amazon AWS, Microsoft Azure and Google Cloud.
Schedule a free 30-minute call with us to discuss your business, or you can give us a call at (949) 284-6300.