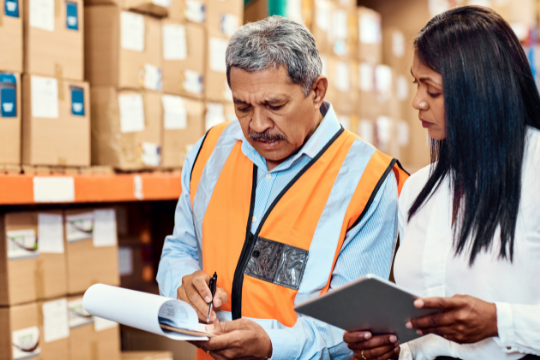 Supply chain software has become the focus of attention among C-level executives, boards of directors and top supply chain managers. The increased demand for improved customer service through better quality control is one reason why the industry is growing so fast. What used to be considered a back office function has now moved to the forefront as companies recognize that stocking the right inventory levels, in the right places at the right time is a mission critical to success.
How To Reduce Supply Chain Costs
But what really makes supply chain software so attractive to top management is the fact that it can reduce costs while increasing profits, at the same time. That's because by taking a collaborative approach to managing demand for products in the context of available inventory, fantastic efficiencies are achieved, costs are reduced, and customer service levels are improved across all geographies and product lines.
Taking a collaborative approach to managing demand and inventory levels makes fantastic efficiencies possible. It also drives better customer service and dramatically reduces costs.
For example, by using supply chain software systems that monitor demand for products and then calculates the optimal inventory levels to meet that demand, companies can improve their profits significantly.
What makes the collaborative approach so effective is the fact that it encourages cooperation between sales teams (customers) and purchasing agents (vendors). This means salespeople are better able to forecast demand, because they have access to accurate information about what their customers are purchasing. In turn, those forecasts help purchasing agents determine how much inventory they need to purchase from vendors. As a result, supply chain software decreases the amount of excess inventory that is sitting on shelves and at the same time reduces expenses for buyers by making them more efficient.
Reducing inventory costs means savings for the company and more satisfied customers.
Ways Supply Chain Design Software Reduces Risks
In addition to improving cash flow and reducing costs, the collaborative approach also helps companies reduce supply chain risks.
For example, when a company uses supply chain software to forecast demand across geographies and product lines, they can better prepare for adverse events that might affect any part of their business. In other words, by using forecasting tools, they become more resilient to sudden changes in their supply chains.
In the same way, supply chain software helps companies accurately track demand for products, product lines, and geographies which can provide valuable insight when it comes to identifying weaknesses in the supply chain. Armed with this information, companies can make proactive decisions about how they might be able to improve everything from forecasting accuracy to order fulfillment.
How to Easily Implement a Custom Supply Chain Solution to Your Small Business
Small businesses looking to incorporate an intelligent custom supply chain solution may not know where to start. The first step to take is to find the right software development company that will understand your business needs.
Implementing supply chain software is an important step to take. But how do you go about finding the right development company?
The best way is to learn from others who've already done it successfully by hiring a software development company that has experience developing custom supply chains solutions for other companies in your industry.
You don't have to remain an inefficient and overstored business forever. Using an intelligent and collaborative approach to managing your supply chain, you can reduce costs, increase profits, and minimize risks.
The best way to start is by finding a trusted development team that can help you build a custom supply chain solution to fit your business needs.
Sunvera Software develops next-level software applications from start-to-finish. We are a premier software and mobile app development agency specializing in healthcare mobile app development, custom mobile app development, telehealth software, sales dashboards, custom mobile app development services, retail software development, supply-chain software, ecommerce, shopify, web design, iBeacon apps, security solutions and unified access software.
We are proud partners with Amazon AWS, Microsoft Azure and Google Cloud.
Schedule a free 30-minute call with us to discuss your business, or you can give us a call at (949) 284-6300.