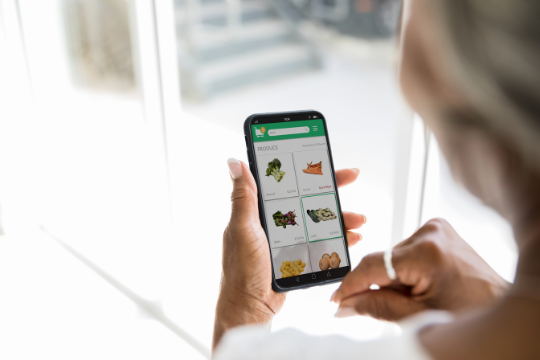 Instacart is an on-demand grocery delivery service based in San Francisco, California. 
Today, Instacart delivers groceries from multiple Whole Foods Market locations and retailers including Costco, Petco, Sam's Club, Publix, Albertsons/Safeway and more.
If you live in a metropolitan area that Instacart has coverage for, you can also get your favorite groceries from local markets and restaurants. 
Instacart is a tech company in the e-commerce space, which means they compete with Amazon on many levels. Both are trying to make it as easy as possible to order anything online without having to leave your house. Here, we will discuss how to create an app like Instacart.
Creating an App Like Instacart: Features to Include
Feature #1 – Delivery
After you place your order, an Instacart shopper will pick out your groceries and deliver them to your home. This eliminates the inconvenience of going to the store for a forgotten ingredient or buying something extra for people who forgot to write down what they wanted. The delivery feature is a must for an app like Instacart.
Feature #2 – Personal Shopper
If you've run out of coffee filters, shave cream or detergent, just tell Instacart how many you need and it'll be on its way within one hour. Think how much time this saves over having to go onto each product's site and compare prices before ordering.
Feature #3 – Cross-Platform Functionality
Both mobile apps (iOS & Android) for Instacart are extremely professional looking and designed with the customer in mind from start to finish. It's also a simple two-click process to place the order and checkout.
Feature #4 – Automated Refill
This is how it works: At first, Instacart users might have to do some legwork to set up their refills, but over time if you use Instacart often enough, they'll learn how much of each item you need and how frequently you shop for them. Eventually, they'll just automatically reorder for you without asking. This is highly convenient and helps eliminate the need to go shopping or run out of something that may mean having to wait until the next trip into town.
Steps to Take to Create an App Like Instacart
Step #1 – Do Your Research To Find a Unique Place Within the Industry
Look how many apps are on the market that replicate how Instacart does business. What you will find is how this company has done something very different by putting the customer's needs first, and how they're doing it in a way that builds customer trust and loyalty. When doing your research, look at other apps that are similar to Instacart, and note which features they use. How can you make your app unique? You do not want your app to be the next Instacart, but the next app that is as successful as Instacart, in the same niche. This step requires a great deal of brainstorming.
Step #2 –  Get Funding before Moving Forward
This step is normally the first thing that everyone does when starting a new business, but how many people actually move forward with their idea because they lack funding? If you're really serious about developing an app like Instacart, find a way to get invested in your own ideas. Make sure what you are doing will make it worthwhile for investors. Create a strategy on how you will pitch to investors, how much you'll need to start, how much it will cost for the first year and how many people are needed on your team.
Step #3  – Keep Costs Low and Profits High
The cost to start an app like Instacart is extremely low when compared to how much profit you can make off it. You have to do everything right; from the features, how the app operates and how much profit you will expect. This app is a great way to earn passive income because once it's set up correctly, your revenue will likely increase every month.
Step #4 – Development and Testing
Developing an app like Instacart will take a few months of hard work and effort. You have to remember how professional this company's website looks, how functional the mobile apps are, how simple it is to use and that all of their shoppers are in-house employees who have been doing this for years. You want your app to be at least as good, if not better than Instacart. Testing should be done by a third party to make sure your app is not breaking any rules and how it works. You do not want the app banned from the Apple or Google AppStore before you have an opportunity to gain a following.
Step #5  – Get Your First Customers
One of the first things that Instacart did was find how many people were already using Amazon Fresh. They started by offering what these customers needed and how they did it, as well as how they listed their products on their mobile app. This is how Instacart got their first customers. People were already familiar with how things should work and how to use the app, so there was no need to change how things were. People simply signed up and began using Instacart to get their groceries.
Step #6  – Make Sure Customers Stay Happy
Once you are getting a few customers, how do you keep them happy? You have to be on top of how many complaints get filed in how many different ways. You should respond as quickly as possible to make sure the problem is resolved and how it doesn't happen again with any other customers.
Constantly monitor how people are using your app, how they are rating it and how you can improve how the app operates. This is how Instacart has stayed on top, even during a time when others were developing apps like Instacart too.
Step #7 –  Keep Learning From Others
Start looking at how other businesses do this and see how much they charge customers when they first begin doing this. What you'll find is that no one makes profit from the start because there are always initial costs before becoming profitable with this new model of revenue share where both sides gain something when sales happen. Once you've launched you app and gained customers, it does not stop there. You need to be constantly observing and applying ways to improve your app. Monitoring your competition is key to a successful app!
Conclusion
The mobile app market is constantly growing rapidly as more people buy smartphones with enhanced connectivity. This is how startups get their first clients and how they grow to become a profitable business. You don't need millions of dollars to develop an app like Instacart, you just need passion, experience, patience and the ability to learn how others who have done this successfully. This is what separates those who succeed from those who don't!
Sunvera Software develops next-level software applications from start-to-finish. We are a premier software and mobile app development agency specializing in healthcare mobile app development, custom mobile app development company, telehealth software, sales dashboards, custom mobile app development services, retail software development, supply-chain software, ecommerce, shopify, web design, iBeacon apps, security solutions and unified access software.
We are proud partners with Amazon AWS, Microsoft Azure and Google Cloud.
Schedule a free 30-minute call with us to discuss your business, or you can give us a call at (949) 284-6300.