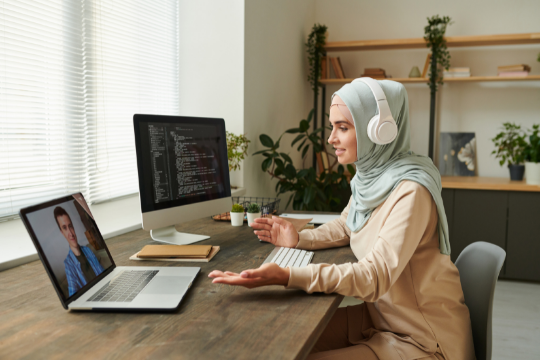 What is meant by recruiting remote developers? Recruiting remote developers means you are looking to hire people, either for their existing skills or as a freelancer, to complete an identified task and then let them go. You can even look into outsourcing your site maintenance requirements during the pandemic. What you're doing may not be as critical as running a hospital, so you need to figure out what your business needs to accomplish as a priority. Asking yourself the following questions will help define this.
Who will be affected, and how? Even for a short time, losing staff can impact critical communication paths within an organization and take a long time to recover. If our system administrators are sick, how do they update their help desk tickets to let us know they can't make it in? If our account managers are sick, how does the marketing department communicate about the new product they were trying to launch? These scenarios can disable an organization and have a massive impact on customers.
Do your customers rely on your services for critical functions? If your website is down, what is the impact on your customer base? If your eCommerce site is taken offline, how will that impact revenue? Can you complete any marketing initiatives if communications are disrupted?
What would happen if staff went on leave or were sick for an extended period – who could take over from them? Would you have to hire a permanent replacement, and is that feasible?
Okay, so we've identified the issues. Now, what about solutions?
Ensure that you have developed a relationship with your employees and that they can contact you when there is an unavoidable absence. They could use company email or telephone, but consider creating another communication channel such as Twitter, if it is available for the best results. If crucial staff goes missing during a pandemic, it will compound problems if their colleagues cannot reach them or find out what's going on.
Define a priority list for critical tasks so that you know which activities cannot be ignored during the crisis and who will need to address them.
Create a profile for your staff members to fill out ahead of time. Include contact details, previous work history, etc. Have developers include their programming languages and technologies that they are familiar with. This way, you can see who can handle specific tasks if staff goes missing during the pandemic.
Stay in contact with other managers at your company so that you know who else is coordinating resources during the pandemic, what their priority list is, etc. If internal systems are breaking down, then it's definitely worth having a chat or calling somebody to work out how best to fix things.
Reach out to other companies in your sector to establish how they are handling the pandemic crisis. If you're managing a tech company or have an online presence, then it's worth finding out what other tech companies are doing so that you know which infrastructure is at risk and what might be working for you.
How to Recruit Remote Developers
Consider recruitment agencies as a way of finding new staff. This can be a long-term solution for difficult times, so it could be worthwhile putting out some feelers if you know that the pandemic will last several months. Don't forget about alternatives like freelancers who may not be working during the crisis, so they might even welcome your business!
Use social media and post messages about what you're looking for and how much you'll pay. If the pandemic is particularly bad and it's still possible to communicate, there will likely be droves of people who want to work wherever possible.
Create lists of all the relevant online communities that you can think of: Facebook, Twitter, LinkedIn, Google+, Reddit, Stack Overflow for a coding-related position, etc. Post short messages about your requirements. If it's a contract position, then try to provide as much detail as possible for interested people.
If it's a long-term position, try to find out their skill set and what languages they're familiar with. If it's a shorter contract, you can go into more detail about the tasks and how long you anticipate them taking. You never know; they might already be familiar with what you need and be ready to start straight away.
Have remote developers provide examples of work that they've done in the past if possible so that your company can get an idea of whether or not they're a good fit and offering something worthwhile.
Elaborate on the position and what's required of them if they're interested, e.g., how many hours per day, salary, computers, etc.
Try to outline what qualifications and certificates you require (e.g., degrees, diplomas, etc.), so you're not wasting your time and the time of those applying. 
Recruiting remote developers is a difficult task under normal circumstances. Still, when there are several important matters to think about during a pandemic, this is almost certainly going to be the most challenging part of working in tech. Do you hire anybody and hope that everything works out well? It's possible, but it's not the ideal situation, especially since you're going to need somebody who can really help out.
Sunvera Software develops next-level software applications from start-to-finish. We are a premier software and mobile app development agency specializing in healthcare mobile app development, custom mobile app development company, telehealth software, sales dashboards, custom mobile app development services, retail software development, supply-chain software, ecommerce, shopify, web design, iBeacon apps, security solutions and unified access software.
We are proud partners with Amazon AWS, Microsoft Azure and Google Cloud.
Schedule a free 30-minute call with us to discuss your business, or you can give us a call at (949) 284-6300.