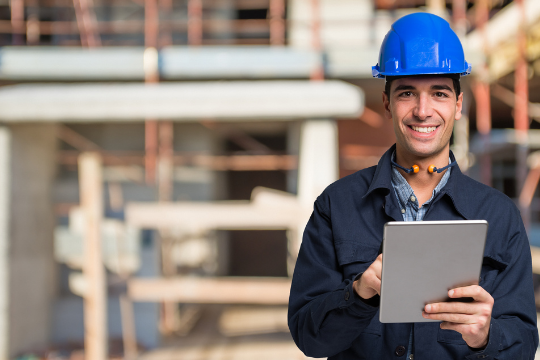 The construction industry is one of the largest industries in the world. Since ancient times, the design, development, and execution of structures have always been a problem for builders. It's not just because of the lack of technology but also because of an inexperienced workforce that are unaware of most modern techniques to build structures. Lack of a skilled workforce would ultimately lead to awful construction disasters like the Hyatt Regency walkway collapse and the Bangladesh Rana Plaza building collapse. 
The design and technology used in the construction industry are changing with every passing century. Like how we are witnessing exponential growth in today's technology, mobile phones have become PCs, laptops have become tablets/phablets, and watches have become smartwatches. All this is achieved by the companies who believed in their marketing strategies and invested millions of dollars in research to ensure they develop the most modern design and technology.
The construction industry is no exception where nowadays we can see some world-class developments like Burj Khalifa, Opus building, Apple store on 5th avenue, etc. Like every industry, the construction industry also has its challenges regarding growth and development. The biggest challenge in construction is that if you make any mistake in your design or execution of a project, it can cost billions of dollars to the company. The company will not be able to recover quickly due to the nature of the industry where you have to complete a project in a very short time.
Challenges of the Construction Industry
The following points will give you a brief overview of challenges in the construction industry.
The construction projects are massive in size. Therefore, it becomes difficult to coordinate activities among different company departments, which is generally divided into several parts such as design, planning, manufacturing, pre-production, and post-production phase. These departments need to interact with each other regularly for the successful execution of a project. A construction company can use technology to overcome this problem by using online apps like construction collaboration tools, which would allow different departments to share their data and report on a real-time basis. This would help companies avoid lengthy email trails between team members for regular status updates and give immediate notifications if required.
The construction industry has some of the most complicated processes to work on where it becomes difficult for an individual to manage the day-to-day activities. Moreover, it takes a lot of effort and time even to get proper updates from different team members working on multiple projects because they have other priorities in their minds apart from regular reporting. Companies can solve this by using project management software which would enable people to share their tasks and progress reports on a real-time basis. This is a great way to improve communication between team members, decision-makers, and clients. 
The construction industry faces another major problem, such as a lack of skilled workforce aware of the modern techniques used in building structures. Companies can also overcome this by using eLearning tools to educate the employees about the latest technology and techniques. Doing so will enable them to avoid any risk related to project execution and design.
There is also a shortage of machines needed for making designs and executing projects on time. Companies can solve this problem by bringing the manufacturing units closer to project sites by investing in big chunks of land to manufacture machines required for site execution. This would also reduce the transportation cost and time, which generally takes a significant toll on project budgets.
One of the biggest challenges is coordinating between different branches of businesses where they need to interact regularly to complete a project. Construction firms can solve this problem if companies adopt modern collaboration tools like cloud-based mobile workforce management apps that would allow people to know each other's schedules. This would ultimately lead to convenient communication and sharing of data without any hassle.
The construction industry faces several problems that companies can solve by using technology such as cloud computing, mobile apps, and artificial intelligence (AI). These technological advancements have made our lives easy to operate daily. The construction industry also needs to change its business model to stay current in the era of new technology.
Other Softwares and Technology Used in Construction
BIM (Building Information Modeling) Software

CAD (Computer-Aided Design) Software

ERP (Enterprise Resource Planning) Software

GPS and GIS (Geographic Information System) Software

Collaboration Tools

Mobile Workforce Management Apps

RPA (Robotic Process Automation)

Blockchain Technology

Internet of Things (IoT)
The construction industry is going through a challenging phase where it must change its business model with time. Technology has proved to be a significant game-changer in every sector. The construction industry cannot afford to lag by using traditional techniques, human force, and outdated tools for project execution. It is time that companies should invest their capital in the latest equipment and software tools to stay ahead of their competitors. It is also crucial for them to educate and train employees working on construction projects about modern technology to learn new skills that will help them quickly execute tasks and deliver on time.
Sunvera Software develops next-level software applications from start-to-finish. We are a premier software and mobile app development agency specializing in healthcare mobile app development, custom mobile app development company, telehealth software, sales dashboards, custom mobile app development services, retail software development, supply-chain software, ecommerce, shopify, web design, iBeacon apps, security solutions and unified access software.
We are proud partners with Amazon AWS, Microsoft Azure and Google Cloud.
Schedule a free 30-minute call with us to discuss your business, or you can give us a call at (949) 284-6300.