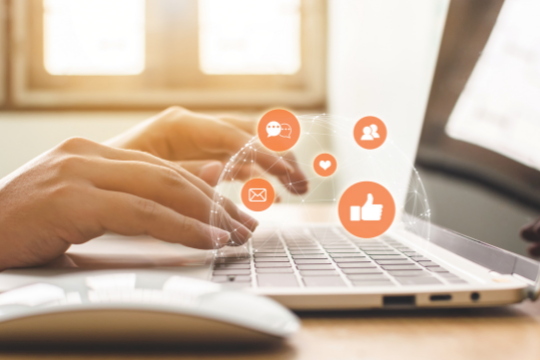 Online marketing is all about engaging your customers and providing them with a customer experience that they will rave about. Traditional marketing takes place offline, but the rise of social media has meant that consumer attention has become more fragmented. It's now even easier to find negative feedback and complaints online by searching for your company name or brand, so it's important to manage your online presence and make sure that there are positive comments out there.
Without further ado, here are some ways you can help increase the online presence for your business.
Incorporate a Blog
An excellent way to improve your online presence is by incorporating a blog into your website. A blog provides you with an opportunity to showcase your knowledge and expertise on a specific topic. This will help to build trust in potential customers as they know that you actually possess the skills and background necessary to do what you are saying, rather than simply trying to sell a product or service.
A blog is also a good way for regular site visitors to get to know you on a personal level and see who you are as an individual. This can get the conversation going about your business with customers who want to learn more about you. 
If you try out this tactic, make sure that it fits in with your business. For example, if you are in the tech industry, then having a blog about your hobbies probably won't work very well for attracting potential clients. However, it can be extremely effective for developing long-lasting relationships with customers and getting people to notice who you are as a person.
Community Engagement
Another way to improve your online presence is by participating in online communities and forums. Participating in these types of online platforms will allow you to get your name out there and have conversations with people who would not normally be exposed to your business. 
The most important thing is to participate actively if you decide to go this route. Don't just post a message once, rather, keep it updated and keep the conversation going. When people see that you are active and involved in a community, they become more inclined to buy your product or service because they want to be associated with your online persona.
Make sure that you are putting out helpful content in these communities; otherwise you may give off the impression that you are only looking for sales opportunities rather than having a genuine interest in the groups you are posting in.
Get Active on Social Media Platforms
If you already have accounts on social media platforms such as Facebook, Twitter, etc., make sure that you are utilizing them to their full potential. Participating in these types of online communities not only allows people to interact with your business, it also gives you the ability to create relationships with other people who have similar interests as you. Interacting with others on social media can help strengthen current and future relationships, which is extremely important for long-term success.
The great thing about these social media platforms is that they allow you to interact with people all over the world. This gives you a chance to connect with individuals who would not normally have an opportunity to do business with your company. It opens up the possibility of getting additional clients and/or customers because they can tell their friends or family members about your business.
It is also important to make sure that you are using the right type of content to get online users interested in what you have to offer. There are certain things you should avoid posting on social media platforms at all costs, because they will give off a negative impression and actually hurt your business rather than help it. For example, avoid posting about controversial topics because they will immediately turn away potential clients.
You should make sure that you have a strong online presence, as it can influence people when making decisions regarding your products and services. If your social media profiles are not up-to-date or filled with outdated information, chances are the individuals who do business with you will be unhappy. This can lead to a customer service nightmare and ultimately affect your business' reputation.
In order to protect your online presence, you must make sure that any information about you or your company is up-to-date at all times. Some good examples of this include facts such as the date that your website was launched, the date that your company was established, etc.
Overall, it is very important to make sure that you have a strong online presence because it gives potential customers and clients the opportunity to learn more about you and what you have to offer. If they trust you and know what your business can do for them, they are much more likely to buy something from you.
Sunvera Software develops next-level software applications from start-to-finish. We are a premier software and mobile app development agency specializing in healthcare mobile app development, custom mobile app development company, telehealth software, sales dashboards, custom mobile app development services, retail software development, supply-chain software, ecommerce, shopify, web design, iBeacon apps, security solutions and unified access software.
We are proud partners with Amazon AWS, Microsoft Azure and Google Cloud.
Schedule a free 30-minute call with us to discuss your business, or you can give us a call at (949) 284-6300.