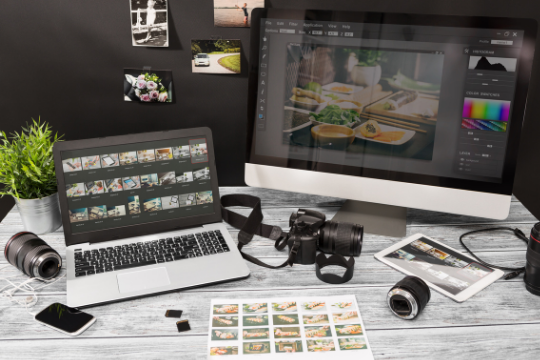 Given the increasing amount of uses that artificial intelligence applications offer, it's no surprise that it can even be applied to image editing. Believe it or not, you too can enhance your images using an AI photo editing app.
What is AI Photo Editing?
AI photo editing is the process of using artificial intelligence to modify images digitally. In today's age of digital photography, in which anyone can touch up their photos to make them look better, AI photo editing apps are available to help enhance your photos even further with a few taps or clicks on your phone.
Examples of AI photo editing apps available for download are StyleR, Prisma, and DeepArt. You can also use Adobe Photoshop to achieve the same results with its AI filters. Here is a short list of some of the best AI photo apps out there:
Photomath by Photomath
Photomath is a free iOS app that allows you to take a picture of a math problem and it will then show you the steps to solve that problem. This app also has an image editor built-in which lets you edit your pictures for brightness, contrast, saturation, and sharpness among other things.
PicsArt Photo Studio
This free Android app allows you to edit images for contrast, color balance, saturation, vignettes, and brightness among other things. You can also download additional tools which allow you to alter or add text, doodles, stickers, and collages to your image.
Samsung Bixby
Samsung's AI software, Bixby, also has photo editing capabilities. It allows you to create collages and mosaics by just taking a picture of an object or scene which then creates the design based on that image.
Aviary
Aviary is very similar to PicsArt in its effects and tools. You can use Aviary to enhance brightness, contrast, saturation, and sharpness among other things. It also has several editing tools such as cropping and rotating images.
How Does AI Photo Editing Work
An AI edited photo can be done inside an app or through a software-based application installed on your computer. Using algorithms based on machine learning, deep learning, and neural networks, the software searches for patterns in your images associated with a particular style. It then applies these learned styles to other pictures by copying them pixel by pixel to achieve the same effect as the original picture.
An AI photo editing app, therefore, enhances images by examining the underlying pixels and adjusting them for what it thinks is a better image. It will decide which areas in your image need to be adjusted, depending on their brightness, saturation, or contrast. This allows you to change the colors of your image without affecting everything else in it, which is how AI photo editing apps manage to improve photos while keeping the subject recognizable.
Why It's Easier To Use AI Photo Editing Rather Than Manual Editing
Manual editing is difficult because it requires that you know what you are doing and a lot of trial and error. If the subject of your photo is not facing a certain way, sometimes there is no choice but to make it face another way which requires cropping, rotating, or flipping the image around. You also have to manually get all your tools ready such as contrast, brightness, saturation, vignette, etc. before you even start tinkering with the variables to get the desired results. You need a more in-depth understanding of how these tools affect your image and how they can be combined. This can be time-consuming if you need more than one picture done.
That is why it's often easier to use AI photo editing software where everything is done for you automatically. With AI photo editing, you do not have to tweak all of the portions in your image as it will automatically pick out the areas that need adjustment while leaving other areas untouched. This means that you won't have to spend time doing manual editing or fiddling around with different filters and effects just to get from A to B. The software saves you time and energy.
While AI photo editors have been around for quite some time, they have increased in quality and user-friendliness, empowering you to carry out great photo-editing work on the go, just by using your smartphone. There are several other benefits to using AI photo editing apps, including the fact that it allows you to edit your pictures at any time without having to download different software programs. It also makes it easier to become better at photography since it doesn't require a lot of practice or skill to get the hang of.
Although many have concerns over privacy protection for their images, so far there is no data or evidence that AI photo editing apps will steal your pictures and use them for malicious purposes. Instead, these apps actually allow you to protect your privacy by removing unwanted objects and errors from your pictures.
As the technology becomes more advanced, soon all you will need is good taste and vision to carry out basic photo editing tasks. Let's see what the future holds!
Sunvera Software develops next-level software applications from start-to-finish. We are a premier software and mobile app development agency specializing in healthcare mobile app development, custom mobile app development, telehealth software, sales dashboards, custom mobile app development services, retail software development, supply-chain software, ecommerce, shopify, web design, iBeacon apps, security solutions and unified access software.
We are proud partners with Amazon AWS, Microsoft Azure and Google Cloud.
Schedule a free 30-minute call with us to discuss your business, or you can give us a call at (949) 284-6300.