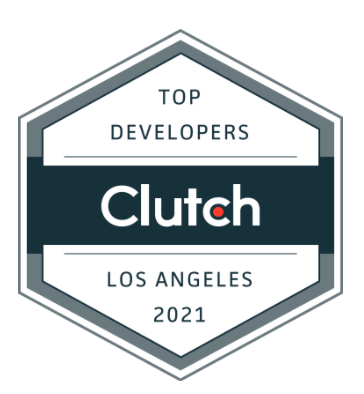 For almost 8 years now, our company has been delivering the best software solutions and mobile applications in the market, for all different industries. From mobile apps to web apps, our team handles everything with dedication and determination in order to deliver the best for our clients. We possess expertise in real world consumer and enterprise product development, delivery, and operations.
Today, we are very happy to announce a significant milestone in our company's history! 
Clutch recently announced their top mobile app development companies in Los Angeles, California and we are fortunate to have a seat on their prestigious list.
Our team is excited and joyful to announce this amazing award with you! After all, it is thanks to you, our clients and partners for believing in us and in our services that helped us reach this goal. 
We are beyond grateful for everything that you have done for us and for the support that you showered us throughout the years.
As for Clutch, our company would like to extend our gratitude to you and your team! Thank you for choosing us as one of the top companies in your platform. Your team always delivers the best services in the B2B industry and your platform has always been helpful for vendors like us and thousands more in the market.
If you are wondering what Clutch is, they are a business marketplace and a B2B ratings and reviews platform based in Washington, DC. They evaluate technology service and solutions companies based on the quality of work, thought leadership, and client reviews.
Apart from Clutch, you can also view our company on Visual Object's site. Check out our detailed portfolio on their platform and a thousand more companies like us!
Looking to develop a mobile or web application? Feel free to contact us anytime!