More and more people are relying on Sunvera's mobile devices for various purposes. From productivity to entertainment, mobile applications cater to almost every digital need of billions of users worldwide. Developers also continue to discover new implementations to improve the apps they build. At Sunvera Software, we're all about the progression of technology and how we can utilize such advancements to the solutions we offer.
Since 2013, our team has been helping clients build one-of-a-kind digital experiences. We believe that every idea can be brought to life with creativity and innovation. Thus, we aid businesses of all sizes to realize their vision. Sunvera's expertise provides cost-effectiveness and secure development. Whether it's a mobile app, a website, or enterprise software, we can make it happen!
As we strengthen our relationships with our partners, we've recently acquired another feedback through the Clutch platform.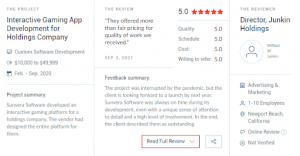 First time hearing about Clutch? To explain, it is a B2B ratings and reviews platform based in Washington, DC. They evaluate technology service and solutions companies based on the quality of work, thought leadership, and client reviews. 
A rapidly expanding startup, Clutch has become the go-to resource in the agency space. Their review process is reliable and transparent, and we're grateful to those of our clients who have taken the time to provide feedback.
Our newest review comes from Junkin Holdings' Director, William Junkin. His talk with the Clutch team gave insight into what transpired during their partnership with Sunvera. He discussed the main challenges that they were facing, and why Sunvera's services were impactful to their business.
"The development of a new interactive gaming platform — They [Sunvera] designed the entire platform we needed.
Their attention to detail, follow-up, and level of involvement was outstanding."
— William Junkin, Director at Junkin Holdings
While the launch of the product was delayed due to the pandemic, the client is looking forward to releasing it next year. We'd like to express our appreciation to Junkin Holdings for taking the time to leave a positive review, and we can't wait to see their upcoming success in launching the app.
Find out more about Sunvera Software's accomplishments on our Clutch profile. We're also ranked highly on Top Design Firms, a brand new B2B resource.
We'd love to know more about your ideas. Send us your inquiry now, and we'll get back to you right away!
Sunvera Software develops next-level software applications from start-to-finish. We are a premier software and mobile app development agency specializing in healthcare mobile app development, custom mobile app development company, telehealth software, sales dashboards, custom mobile app development services, retail software development, supply-chain software, ecommerce, shopify, web design, iBeacon apps, security solutions and unified access software.
We are proud partners with Amazon AWS, Microsoft Azure and Google Cloud.
Schedule a free 30-minute call with us to discuss your business, or you can give us a call at (949) 284-6300.