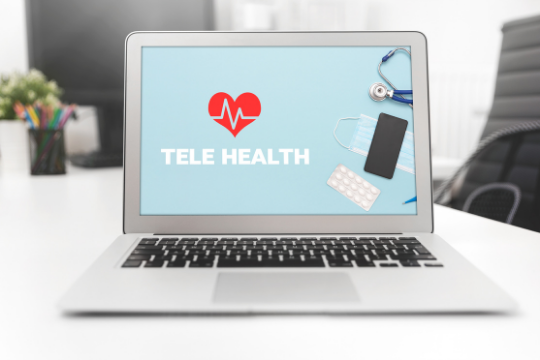 Telehealth has been paving the way towards the future of healthcare for years, and it continues to gain steam as mHealth applications become more common. Some of these apps can be used by patients and others should be reserved for HCPs (healthcare providers) only. It's important to know how to use telehealth software systems but even more crucial is understanding what regulations and licenses apply – many of which vary from state to state.
Why Do HCPs Need Telehealth Software?
There are obvious reasons for HCPs to use telehealth technology– access to care! Patients may live in remote areas, have disabilities that prevent them from getting to the doctor's office, or simply forget appointments. Doctors live busy lives and making house calls was phased out long ago…or so we thought. With telehealth software, doctors can provide quality healthcare services remotely. Patients can get virtual appointments, prescriptions and even learn how to manage their illness.
Telehealth software for HCPs has proven to increase patient satisfaction, provide significant cost savings, and improve access to care in remote areas. It also benefits doctors by allowing them to spend less time behind a desk and more time out in the world delivering healthcare services. With telehealth tech, HCPs can expand their talent pool significantly since they no longer have geographic restrictions when it comes to providing care.
Things to Keep in Mind Before Using Telehealth Software
Although telehealth technology has many benefits for both patients and doctors, there are still a few considerations that HCPs should be aware of. To start with, telehealth services need to be strictly differentiated from house calls by law in some states so doctors will have to get familiar with the laws where they live and work. In addition, it's important to keep HIPAA compliance in mind when transmitting protected health information (PHI).
There are also licensure issues when it comes to telehealth services in some states, and most state laws prevent HCPs from practicing across state lines. Although this might appear like an issue at first, the concept of 'jurisdiction' can also play in favor of physicians since it gives them more flexibility about where they can practice. For example, if a doctor is licensed in Colorado but telehealth patients are located in New York, he or she might not be able to offer remote care there. However, Colorado laws still give the doctor the right to practice telehealth services without any additional licensing requirements because their jurisdiction is in Colorado.
With so many benefits, telehealth technology is becoming the standard in healthcare. It's fast gaining favor with HCPs and patients alike because of its convenience and quality of care. Although there are a few considerations to keep in mind before getting started, the benefits far outweigh the negatives for both doctors and patients so it should be used by all HCPs.
Does My Patient Have Access?
Before you begin offering patients telehealth services, make sure your patient population has access to computers (or at least smartphones) with high-speed Internet connections; if they don't then it makes little sense to use video calling software.
In addition, if your patient population does not have access to high-speed Internet then many telehealth platforms will be of no use to them because the download and upload speeds required for their apps are significantly higher than what most people currently have at home or on their mobile devices.
Advantages of Telehealth Software Systems
Physicians who practice both in-person and via telemedicine can easily manage two different patients simultaneously using secure messaging applications

Physicians can communicate with a patient about a particular issue while also checking vital signs or reviewing lab results from another patient.

Some evidence suggests that typical office visits now take less time thanks to telehealth platforms because doctors can skip the typical "visit prep" tasks.
Disadvantages of Telehealth Software Systems
Using software to conduct video chats rather than seeing patients in person can be problematic for some HCPs because it often eliminates the opportunity to establish rapport with a patient located in another state or country. 

Many patients are intimidated by technology which makes them feel even further removed from their physician during treatment sessions.  
Telehealth Insurance Verification vs. In-Person Visits
Although telehealth software provides physicians with the ability to easily verify coverage using an embedded insurance verification service, these applications are still restricted by federal privacy laws prohibiting communication between providers and patients unless certain criteria have been met (such as a patient consenting to release their information or a medical emergency).  
The good news is that some telehealth software providers such as Amwell, American Well, and MDLive include an "Emergency Link" feature built into the platform which gives doctors the ability to immediately speak with a patient who has no health coverage. It's important to note that this feature must only be used when directed by a physician; it doesn't preclude physicians from providing in-person care in addition to telehealth services. 
Off-the-Shelf vs. Custom Telehealth Solutions
Off-the-shelf apps are developed using pre-existing code with software that has been approved for release to market by the FDA or other governing agencies.
Custom apps, on the other hand, require developers to code every application specifically for each client's needs; this can be both time-consuming and costly, which may not make sense for smaller physician practices that only need simple telehealth capabilities via mobile devices.
List of Telehealth Apps
The following is a general outline of some of the best telehealth software types available. It's important to note that the FDA has not labeled every app as either "HCP-only" or "patient use," so we've pointed that out there. There are apps that have not been approved by the FDA yet and are clearly intended for general consumer use only. The decision to download should fall onto whether or not you are a licensed provider, not on whether or not the app is FDA-cleared.
WebMD Pregnancy App (Free)
This app provides medical information which is not necessarily meant for patient use. It would be acceptable to download it if you are an HCP and need to access information while treating a patient.
patientMpower – iOS (Free) and Android ($4.99)
The "Patient Empowerment" app allows patients to have a dialogue with their providers, even if it's just basic information or health tutorials. The app grants access to medical information, drug interactions, weight-loss strategies, and general medical advice that should not be used as a replacement for expert medical care.
HealthTap (Free)
This application provides free health information that can be accessed by anyone. It offers medical advice, clinical judgment, diagnosis, medication info, interactive tools. Users can connect with physicians via video chat or email; it is not intended for HCP use only. When you ask a question on the app, you usually receive a quick reply, and if the response isn't satisfactory, you can always get a second opinion.
Medscape/WebMD Symptom Checker (Free)
Intended for patient use only, although the app is FDA cleared, the purpose of the tool is symptom identification– it does not allow users to communicate with physicians or nurses directly about their symptoms. This application should be used in conjunction with clinical judgment by patients and providers.
MediSafe Pillbox ($4.99)
This app allows a patient to photograph and track medications, send pill reminders to caretakers and record missed doses. A brief tutorial on the app's website is available for those who wish to learn more about its functions before download. MediSafe is intended for patient use only.  
MDLive (Free)
An interactive, HIPAA-compliant telehealth app that allows patients to communicate with HCPs via secure video chat, to enter their medical information and medications, allergy info, and conditions. Medical advice is performed by clinical staff members that are licensed in their respective states where the patient is located. The free version gives patients the ability to chat with their physician over a video call, download educational materials, and receive medical advice via email or text message. Physicians are paid by MDLIVE for "free consultations" that are done via video chat. This app is intended for patient use only, but it also has value to HCPs as a quick resource for patient care.
Medicall (Free)
Users "directly connect" with a registered physician via text, email, or video chat. Once a connection is established, users can ask medical questions and receive answers from physicians who are contracted by this app- you cannot use the app to directly message your own doctor. The free version of this application includes a 7-day trial period where you can only contact a physician for general medical questions; after that time frame, a paid subscription is required and starts at $9.99/month.
MedKeeper (Free)
Intended for patient use only, this application allows patients to track medications, send pill reminders and keep tabs on other health information such as blood sugar, blood pressure, and weight.
Phreesia (Free)
HCPs can accept credit card payments directly from patients via iPad or iPhone. The app also provides real-time insurance verification, appointment scheduling, and automated reminders, but it does not allow direct communication between patient and provider.
uChek (Free)
Intended only for use by physicians and medical providers, the FDA-cleared application is a urine analyzer that performs the following tests: nitrite, leukocytes, blood, bilirubin, specific gravity, protein, urobilinogen, and pH levels (to name a few).
Vitals (Free)
Users can track their blood pressure, heart rate, weight, and cholesterol levels. A paid subscription provides users with access to more health information such as glucose readings or EKGs. Vitals are intended for patient use only.
AmWell (Free)
Patients have the ability to communicate directly with a physician on-demand via video chat. However, AmWell notes that the free version of this application requires pre-authorization by physicians for certain visits such as those related to mental health or psychiatric disorders.
Wello (Free)
HCPs carry out on-demand video consultations with patients, upload patient medical information, and communicate with other members of a patient's care team. Wello is only available to medical providers who have been invited to use AmWell through a current AmWell subscription. Please note: The first 10 minutes of each visit are free, after that time frame a paid plan is required which starts at $10/month.   
The Future of Telehealth
Most people don't realize it but telehealth software is already quite popular in the healthcare industry and it's growing every day. The American Telemedicine Association (ATA) has led many successful telehealth programs that provide care to over 3 million people across rural areas of America since its founding in 1993. As we move towards a more technology-driven society, we expect this number to rise exponentially.
Sunvera Software develops next-level software applications from start-to-finish. We are a premier software and mobile app development agency specializing in healthcare mobile app development, custom mobile app development, telehealth software, sales dashboards, custom mobile app development services, retail software development, supply-chain software, ecommerce, shopify, web design, iBeacon apps, security solutions and unified access software.
We are proud partners with Amazon AWS, Microsoft Azure and Google Cloud.
Schedule a free 30-minute call with us to discuss your business, or you can give us a call at (949) 284-6300.