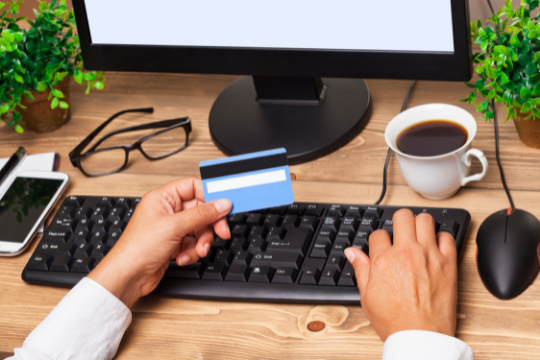 In today's age, most businesses use online payment transactions due to the convenience and security they offer, especially when compared to the use of cash or check, which are more susceptible to fraud. Not only do they allow customers to purchase your products or services with ease, they also provide a new way to capture customer data for future use.
But there's something to be said about the security and safety of electronic transactions as well. In this article, we will look at some things that you must do in order to ensure your company's security of payments.
7 Tips to Secure Your Payments
The following list offers you effective ways for online transactions carried out between your company and your customers to be protected and therefore trustworthy. 
1. Use Secure Payment Processors
When your customers pay for your products or services, it's best to use a secure payment processing system that offers a high-level encryption program to protect their information from third-party access, especially since online transactions are prone to hacking attempts. Not only does this ensure the security of the data being transferred between parties, it also provides assurances to your customers.
Keep in mind that when you use online payment processors, your website should be SSL (Secure Socket Layer) compliant to provide authentication for the transactions. When you use this protocol along with high encryption methods, it makes it very difficult for hackers to scan web traffic and extract credit card information.
If you are contracting with another business for your Point of Sale (POS) system or other services, be sure to ask them what security measures they have in place before you sign anything. Also, study up on the PCI (Payment Card Industry) standards and regulations governing how your business should handle personal information including financial data.
2. Create and Deploy Strong Passwords
This is one of the most important things you can do to secure your payments. Weak passwords make it easy for hackers to take control of accounts. Your passwords should be strong; they must not be easily guessable, and they must not be too simple. Even the most sophisticated malware can be thwarted by a good password that includes letters, numbers, symbols, and upper-case. Make sure to change your passwords periodically as well.
If you have a password policy in place, be sure to enforce it so that your employees will follow it. Password policies can encourage better security habits and lower the risk of accounts being compromised.
Of course, you will need to constantly review your policies from time to time as technology is continuously changing and a system that worked a few years ago might not work now.
3. Secure Your IT Systems and Software
It goes without saying that your business computer systems and software should also be protected from cybercriminals who want to gain access and steal data. Malware and spyware can easily find their way onto your system, which is why it's important to use reliable anti-malware software.
It's equally important to make sure your files are regularly backed up so you can easily recover them if the worst.
Aside from malware and spyware, be aware that phishing scams are on the rise. While they don't directly target businesses, they can turn into a major issue if your employees fall prey to them. Phishing scams usually involve fraudulent messages sent via email that appear to be from reputable sources such as banks and credit card companies, asking the user to verify personal information.
Be sure to monitor who accesses which files within your system, especially with network-connected devices or cloud storage.
4. Conduct Security Scans
It is also important for businesses to conduct security scans on their websites before making them available to customers. With this in place, you will immediately know if there is a problem and be able to fix it before your customers are affected.
Security scans can also be useful in detecting any suspicious activity or hacking attempts on your system. You should implement a proactive approach in stopping these threats by installing firewalls that monitor traffic coming into and out of your network, checking how files are being accessed, plugging security holes, and so on.
5. Preventing Payment Card Data Loss
For starters, if you're using well-known credit cards, such as Visa or MasterCard, make sure that you are following their protocols. You do not want to lose what could potentially be millions of dollars because of some slight negligence on your part when securing this type of transaction. Take note of your local laws and regulations governing how your business should handle personal information including financial data.
You should implement a strong security system that restricts access to customer payment card data. This includes maintaining physical security and protecting against computer threats such as malware and other cyber attacks.
In general, the Payment Card Industry Data Security Standard (PCI DSS) is an efficient measure developed by credit card companies to protect their customers from fraud. However, compliance has been made mandatory only recently.
Debit cards are one of the more popular and convenient choices for business owners with an online store, especially since virtually everyone has one or accesses their funds via some sort of electronic banking system. Although debit cards do offer convenience and speed in making purchases at brick-and-mortar stores and many websites, they also put you at risk.
The most common way a debit card can be compromised is by having its information intercepted when entered into a retailer's website. Hackers can also intercept data over wireless networks to glean a customer's PIN and other key details. Downloading spyware onto your computer or buying something online with a credit card from a website that has been infected with malware is another way of compromising your debit cards.
When dealing with online purchases, always check the reputation and security measures of the retailer you are going to transact with before doing business with them. If you want to use a credit card for a transaction, look for a reputable company and not some fly-by-night operation.
6. Encryption Software
If your business processes online payments, make sure to use encryption software when you process your customers' financial information. The information should be encrypted both in transit and in storage, whether that is in memory or on a computer disk. Encrypted customer data will be unreadable data to an attacker even if they intercept it while in transit. Similarly, data that is encrypted in storage can be read by hackers only if they have the key.
7. Adopt Best Practices for Security Training and Awareness
Finally, you should regularly train your employees about security so they are aware of their responsibilities when it comes to protecting your customers' data. You should also regularly update them on emerging threats
Before implementing any policy involving processing credit card payments, businesses need to ensure that employees know exactly how to proceed. And while they go about this, they must keep all applicable laws and regulations in mind for added protection.
A Secure Payment Portal Can Help
If accepting online payments via credit card is important to your business, then you should consider using a payment portal. The entire process of employing such a system can be quite simple and is ideal for small businesses that only use the service occasionally. Using a secure portal will help you avoid common mistakes in making online transactions and protect against cybercrime, identity theft, and other forms of Internet fraud.
At its most basic level, a payment portal is a secure website that stores payment information in a location separate from the rest of your business's computer network. This means that if a hacker gains access to one part of your network they won't be able to gain access to customer credit card information.
Finally to do the best you can to provide security of online payments and of your overall information systems to avoid common pitfalls leading to breaches, make sure there's a check next to each item on the following list:
Stay current on all security developments

Testing your network's defenses frequently

Applying security updates promptly

Encrypting sensitive data that is stored or transmitted

Limiting access to systems and information only to those who need it to do their jobs

Keeping anti-virus software up-to-date

Block packets from suspicious sources at the firewall level

Installing a secure web browser on remote computers used by employees for accessing company networks via the internet

Use secure web-based applications
Sunvera Software develops next-level software applications from start-to-finish. We are a premier software and mobile app development agency specializing in healthcare mobile app development, custom mobile app development, telehealth software, sales dashboards, custom mobile app development services, retail software development, supply-chain software, ecommerce, shopify, web design, iBeacon apps, security solutions and unified access software.
We are proud partners with Amazon AWS, Microsoft Azure and Google Cloud.
Schedule a free 30-minute call with us to discuss your business, or you can give us a call at (949) 284-6300.