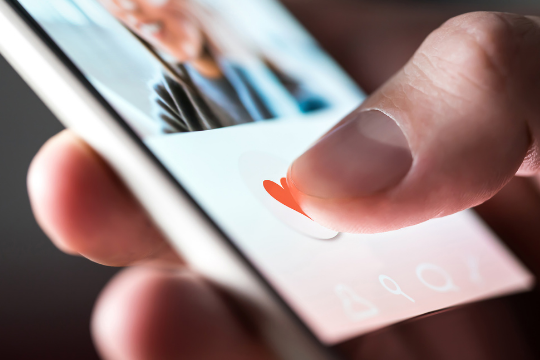 When it comes to finding your perfect match, dating apps make it a lot easier than traditional means. Nowadays you can do everything from finding people on Facebook to swiping right (on Tinder) or left (on Bumble). There are also niche apps for book lovers, gamers, tall people… you name it.
But where did it all start? Well, that's exactly what we're here to tell you.
A Little History Lesson on Dating Apps
The idea for dating sites came in the early 2000s when people started to use online chat rooms and instant messaging programs. They were looking for a way to connect with other singles so they could keep in touch with them even when they weren't around. Then came along the idea for online sites like Match, eHarmony, and OkCupid (now owned by IAC). People could create profiles on these sites and sign up to see who else was into the same things as them.
This is where the evolution of dating apps began. People would still use these dating sites, but then they started to create their own niche versions of the site like Christian Mingle and JDate (for Jewish people).
The evolution continued with the emergence of online dating apps.  Some had to do with location, such as Around Me or Hinge. Others were more personality-based (what hair color you like, what age range you're looking for etc.). Tinder definitely kicked off the evolution of dating apps in a positively disruptive way, but there are now other options including Hinge.
Types of Dating Apps
Casual Dating Apps
These are pretty self explanatory. You don't have to worry about things getting too serious.  You're just looking to meet people who have similar interests as you. The evolution of dating apps brought about these casual apps, which are basically the online sites in mobile form. It just depends on what kind of niche you want to be in. You may find someone who also loves basketball, cooking and playing piano.
Christian Dating Apps
There are also dating apps specifically for Christians and other religious people. These usually have different roots than the casual ones, but they're very popular, which is why they were created. For example, some of them use "God" in their name (e.g., Godly) or use the Bible as part of their branding. 
Some of these apps include:
– Christian Mingle (dating site)
– JDate (dating site)
– Godly (dating app)
There are also apps geared for different religious backgrounds, like CatholicMatch and Jewish Singles.
Marriage Apps
Nowadays you can use an app to find a husband or wife. These types of apps are obviously more serious than casual dating apps. You're not just looking for someone who has similar interests as you, you're actually looking for a spouse.  There are a handful of marriage apps that can help you find your future spouse.   
Some of these apps include:
–  eHarmony
– Zoosk
– JSwipe
Marriage apps are very popular in India and the eastern world. The evolution of marriage apps gives people more options to find their perfect match, which is exactly what they want.
They usually come with a higher price tag because you have the option to upgrade and pay for in-app purchases. These include extra swipes, longer search criteria, etc.
The Best Dating Apps
Now that we've talked about the evolution of dating apps and different types, let's see which ones are the best and most popular.
Tinder
This is the first evolution of dating apps that really kicked off the trend of finding a partner through a phone screen. It allows you to swipe right or left on people who are also using the app and it's a lot more fun than other online dating websites and apps. 
Hinge
This app takes the evolution of dating apps to the next level. It basically drains your Facebook account and builds a profile for you based on how other people perceive you on Facebook. The evolution of online dating sites brought about Hinge, which uses data from your Facebook profile to determine who you're most compatible with.
First Met
This one would count more as a marriage app than a casual dating app. This app helps you find your future spouse by providing recommendations based on the people you already know and love. They also have a premium version that shows you who's viewed your profile without having to pay.
As the evolution of online dating sites continues, dating apps are also becoming more popular. There are plenty more out there that you can use to find your next relationship or even spouse. You'll just have to decide which site or app is best for you!
Sunvera Software develops next-level software applications from start-to-finish. Schedule a free 30-minute call with us to discuss your business, or you can give us a call at (949) 284-6300.