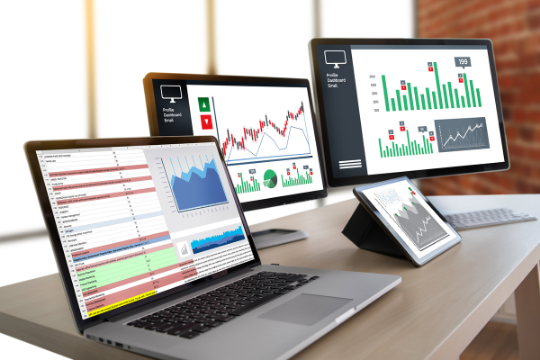 With big data comes big opportunities.
As big data continues to grow in importance for businesses big and small, it's no surprise that larger players are racing to capitalize on the opportunity. Companies like Google, Apple and Facebook are all investing heavily in big data (or more specifically, analytics), seeing it as the key to everything from improving existing products to launching new ones. The major question for many businesses: can big data really be enough to support growth?
Here are six tips that companies can apply to grow their business and profits.
#1  – Focus on Big Opportunities
Just because you can collect a lot of information, it doesn't mean that you have the resources to analyze every bit of it. Unfortunately, there's a catch: big data is more useful for larger companies with larger budgets, not necessarily small ones. For businesses looking to maximize their ROI, a lot of information offers big opportunities. Start by defining the main goals for your business, then work backwards to determine big data's role in achieving them.
#2  – Keep It Simple
You don't have to hire an extensive team or buy expensive software to get results. Just because there are a lot of knobs and dials to turn doesn't mean you need to tweak them all. Analytics can get results using big data that's typically a few steps away from the larger players in the market. However, you do not want to overwhelm yourself.  Start small, identify big data's role in achieving the major goals for your business, then make incremental changes as you see fit.
#3  – Filter the Hype
Big data isn't the only new trend in town. There's a lot of talk when really it's just a catch-all term for what can be analyzed, i.e., all data (big or small). Try to get specific with big data, results and goals.  Ask yourself what a massive amount of information means to you and your business. It is also crucial to not rely completely on this information as this can do more harm than good for your business. Try to find a balance between utilizing big data as well as applying other approaches.
#4  – Find Real Insights
Ask yourself the key question: how is big data really being used to grow businesses big and small? We live in a world where there's still room for big innovation. Discover innovative ways to help your business big-time by sifting through big data to find where the real opportunities lie.
#5  – Know Your Audience
More and more consumers are becoming big data literate. Consumers know when brands are listening (or not) and businesses know that this is big business. When constructing your content, it's crucial to consider your target audience.  Who are they? What do they want and need to hear? Be sure whatever content you produce from big data analysis should appeal strongly to them and their needs!
#6  – Set Big Goals
Businesses should always strive to set high goals for their growth and performance. After you've prioritized opportunities for your business, you'll need to prioritize the outcomes that will grow your business using data analytics.  Though big data can be most useful to larger businesses, everybody has the capacity to reach their goals.
Sunvera Software develops next-level software applications from start-to-finish. We are a premier software and mobile app development agency specializing in healthcare mobile app development, custom mobile app development company, telehealth software, sales dashboards, custom mobile app development services, retail software development, supply-chain software, ecommerce, shopify, web design, iBeacon apps, security solutions and unified access software..
We are proud partners with Amazon AWS, Microsoft Azure and Google Cloud.
Schedule a free 30-minute call with us to discuss your business, or you can give us a call at (949) 284-6300.