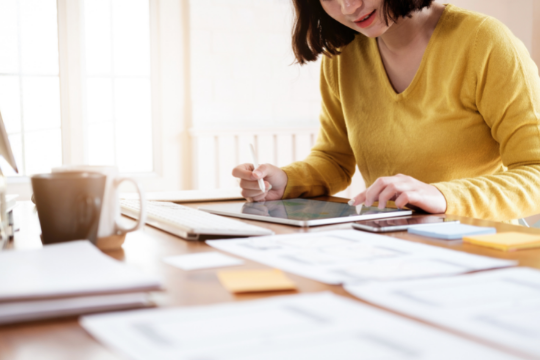 Let's say you have a great business idea and are looking for funding. The first thing investors will want to know is how big your market is, what kind of customers you'll attract and which factors would make it easy for them to take their money out someday.
In some sense, the process of acquiring new mobile app users is no different.
As a mobile app marketer, you'll need to create and implement an acquisition plan that shows how potential users will find your app, what kind of customers they are most likely to become and why it's easy for them to use the app.
We will go over several tools you can use to monitor and improve your mobile app's SEO, as well as other approaches and tips you can apply.
Why is Mobile App SEO Important?
Remember what we said about having a great business idea and wanting to get funding? The same principle applies for mobile app marketing. You are trying to sell both an idea as well as the product/service that goes with your app. In order to do that, you need to let potential customers know what your app is and how they can get it.
You may have a great product that solves a problem or facilitates some activity better than any other competitor out there, but if nobody knows about it, then you are not going to make any sales. This is true on the Web as well as in mobile apps.
The term "mobile app" can refer to many different things, including brand building and customer retention tools that don't drive downloads but still help you grow your business. When we talk about "mobile SEO," we are talking specifically about how search engine optimization works with mobile users who want to download new apps within the various app stores.
Mobile App SEO Tools
We have gathered a list of the top tools you should be using to optimize your mobile app for visibility.
Tool #1: Google Analytics
When it comes to mobile app SEO, Google Analytics is your best friend. It allows you to track how users discover and interact with your app, as well as where in the world they come from. The latter feature is especially important for understanding why some countries are much more profitable than others.
Tool #2: Search Console
The Google Search Console is a web-based platform from Google that you can use to track the number of people who find your app either via mobile search or through specific key words.
Tool #3: Google Play Developer Console
Google's Play Developer Console lets you monitor daily, weekly, monthly and yearly download numbers. You'll be able to see how new users find and download your app.
Tool #4: App Annie
App Annie is another useful tool that allows you to monitor downloads, keywords performance, rankings and reviews across the major app stores. You'll know how many people are downloading your app and where they are coming from.
Tool #5: Sensor Tower
Sensor Tower lets you monitor search rankings in the major app stores. Sensor Tower also gives detailed insights into top countries, keywords and even links to related apps.
Tool #6: Mobile Action
The last tool we recommend is Mobile Action . It does have a few limitations since it requires integration but once you are up and running, you'll be able to monitor multiple metrics, including downloads, reviews and ratings.
Tips to Improve Your Mobile App SEO
Mobile apps live and die by their ability to be found online. Once you have the tools in place, it's time to implement a plan that will allow you to understand how your app is performing on search engines.
Here are some tips that can help improve your mobile app SEO:
1. Optimize for Conversions
There is a fine line between making your app easy to find and optimizing for conversions. Meaning, if you make the title too long or keyword-stuffed, Google might not list it at all. The trick is to optimize for both without doing either.
The best way to improve your mobile app SEO is by tailoring your keywords based on user intent. You need to know why people are doing the searches that they do. That way, you can be sure your app is listed in a search for the correct term.
2. App Title & Description
The first two impressions most users get of your mobile app comes from how it looks on search result pages (in this case, the results pages in the app stores) and the description/name of your app. Make sure both are optimized for conversions and not just mobile SEO.
3. App Icons & Screenshots
The app store page is like your home page when it comes to conversions. Users will look at screenshots, read descriptions and even click on the ratings before downloading your app. The trick here is to make sure you have a clear call to action for each screenshot and that your keywords are included where possible.
4. Optimize App Videos
Video is becoming more important for all mobile apps, primarily due to how users interact with their smart phones. Video can give people a sense of product quality and experience before they even download the app. Make sure you have optimized videos for conversions. The description is also important here so make sure you have optimized it for organic search.
5. Optimize the Blog and Website
Since most apps are more than a single-purpose product, traffic from other sources like social media, SEO and even referrals is vital to its success. Make sure your app is mentioned on your website/blog, preferably near the top of the page. Take advantage of cross-linking opportunities and annotations so that users can download your app directly from your website/blog.
6. Links & Citations
Citations are important in mobile SEO because search engines often use them to gather information about your product or service. Make sure you have a list of all the places you are mentioned online and submit your app to each. Even a mention in one review on an important website can have a big impact, especially if it's an influential website or blog.
7. App Reviews & Ratings
App stores use reviews and ratings as a way to determine your mobile apps relevance for specific keywords. Make sure users are sharing their experiences and leaving reviews. Also, keep an eye on your competitors and what they are doing in regards to ratings and reviews.
Sunvera Software develops next-level software applications from start-to-finish. We are a premier software and mobile app development agency specializing in healthcare mobile app development, custom mobile app development company, telehealth software, sales dashboards, custom mobile app development services, retail software development, supply-chain software, ecommerce, shopify, web design, iBeacon apps, security solutions and unified access software.
We are proud partners with Amazon AWS, Microsoft Azure and Google Cloud.
Schedule a free 30-minute call with us to discuss your business, or you can give us a call at (949) 284-6300.