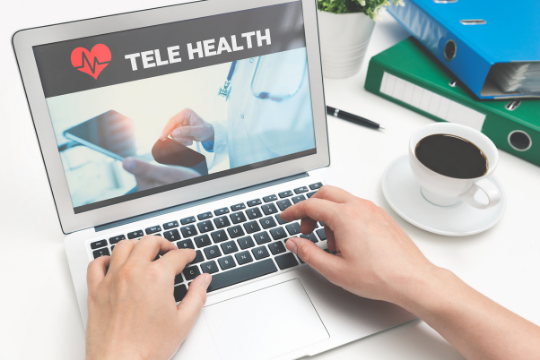 A telehealth startup is a company which provides health services or products through telecommunications. It's a new and emerging field with great potential for growth. The advantages they offer are well recognized by health care providers, patients, and payers. Generally, they offer innovative products and services which have been developed to meet the specific needs of the target population.
Telehealth startups provide customized programs to individuals, families, seniors, and caregivers. They can provide services by telephone, email, or hand delivery. Telehealth startups may offer a number of different products which are designed to support good health habits, prevent disease and manage chronic conditions.
Telehealth startup companies have the ability to offer their clients timely access to providers who are experts in their fields. The range of products and services which can be offered by telehealth startups is fairly broad.
What To Consider Before Beginning a Telehealth Startup
If you're looking to start your own telehealth company, you may want to keep several issues in mind. Telehealth start-up costs can be high. It takes time and money to get started, so you need ample resources of capital, energy, and patience. You will also need to do considerable research on the current telehealth services industry before you launch your own company.
Corporate Structure
From the beginning, it's important to establish your telehealth startup as a formal entity with a corporate structure which will ensure compliance with all regulatory requirements at the national and regional levels. Formalizing your company early on will help keep your telehealth startup in compliance with all industry standards and guidelines.
Involvement of Technology
It goes without saying that technology will play an indispensable role in your new telehealth startup. Assistants can help you identify your target market and find new sales leads for this industry. Startups must keep costs down while offering their products at competitive prices. It may be helpful to have an expert on staff who is experienced with computers.
Health Insurance Costs
Telehealth startups incur significant expenditures (reimbursement) by health insurance companies. Partially to cover this cost, you have to either bill your patients directly or work with a third-party billing company which will take care of all paperwork involved in billing insurance companies. You have to pay for this service so it's a good idea to research the best deals out there.
Logistical Issues
There are a number of logistical issues which need to be taken care of before going live. For instance, you have to select the location and hire an office manager, acquire equipment and configure phone lines. Some telemarketing companies provide these services for a fee but you still have to spend money on them.
Telehealth Startup Documents
Telehealth startup documents include a number of legal forms and agreements. You will need these to set up the company, run the business and protect your assets. While not all telehealth startups will require all of these forms, it's a good idea to be familiar with them and have at least some of them on hand.
Health Provider Agreement

: this form sets out the terms and conditions agreed upon by you and any third-party health providers you may use in your business.

Business Checking Account

: having an account of your own is important for bookkeeping purposes.

Employee Manual

: this form will help you set out the rights and responsibilities of your employees. This way, everyone knows where they stand when it comes to pay rates, vacation time, sick days, and other compensation matters.

Generic Resale Agreement

: if you plan on reselling any products you purchase, you will need an agreement with your supplier.
Tips To Remember When Starting a Telehealth Business
Below are a few things to remember when you're in the process of starting a telehealth business.
Be honest with yourself, your experience, and your expertise in this industry. Don't lose sight of your core competencies even as you add new services to your portfolio. You don't want to dilute the quality of service you provide to your customers.
Keep your technology costs low without compromising on quality. Pay attention to the strategic plans of established telehealth providers and their subsidiaries in order to avoid doing business with companies that may compete with you and damage your reputation and market share.
There's a lot of competition in this industry so do your research before launching your telehealth startup. Gain some experience by working with other companies in this space so you'll learn the ins and outs of the telehealth business.
Make sure to protect yourself financially by acquiring all necessary documents, forms, and agreements before launching your business. This way, you'll minimize the risk of doing business with third parties who may not be reputable or have a poor reputation.
What To Do Once Your Telehealth Startup is Established
Once you have your startup telehealth company up and running, it's important to monitor its performance. Watch for possible problems as well as opportunities that can be exploited in the market.
In addition, make sure you follow all the state regulations which govern medical practice. Keep track of changes to these regulations as they can become binding down the road.
Don't neglect the importance of marketing and sales. Telehealth is not a self-service industry so you need to make sure customers know what you offer.
Whatever your goals might be, it's crucial that you keep on learning about the telehealth business. There are plenty of resources available online which will help you do this.
Starting a telehealth business is relatively easy but it can be challenging as well. This industry is evolving and so you need to study the market and keep abreast of changes in technology and regulations. Take things one step at a time and don't bite off more than you can chew or you'll risk putting your business on the backburner.
Sunvera Software develops next-level software applications from start-to-finish. We are a premier software and mobile app development agency specializing in healthcare mobile app development, custom mobile app development, telehealth software, sales dashboards, custom mobile app development services, retail software development, supply-chain software, ecommerce, shopify, web design, iBeacon apps, security solutions and unified access software.
We are proud partners with Amazon AWS, Microsoft Azure and Google Cloud.
Schedule a free 30-minute call with us to discuss your business, or you can give us a call at (949) 284-6300.