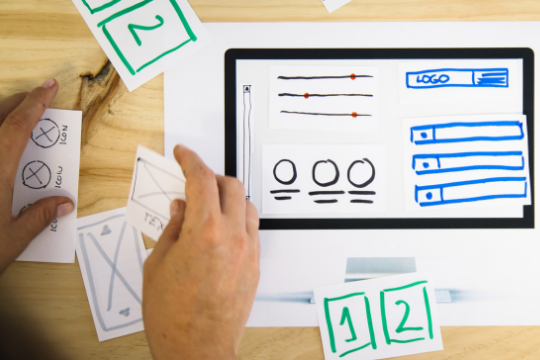 As the web design industry changes, the wireframe tools developers use to create web apps are also changing. With responsive design, wireframing and prototyping are key factors in bringing a new app to market.
In this article, we have selected some of the top wireframe tools for web app development. These resources allow developers to enhance their wireframes with additional functionalities such as form validation to provide a better overall experience.
In no particular order, here are some of the best wireframe tools for web app development.
WireframeSketcher
WireframeSketcher is an easy to use wireframing tool that includes stencil libraries for user interface elements and website blocks with drag-and-drop functionality. The free version allows unlimited public projects, while paid versions provide additional features and compatibility options.
Mockingbird
Mockingbird is a free wireframing tool to plan, organize and share websites and web applications. It also allows users to import designs from Balsamiq or Sketch formats, as well as export the project in PNG format for presentations.
Wirefy
Wirefy is a wireframing framework that provides fully responsive elements and components. It is also easy to configure with the WordPress Customizer, making it a practical alternative for developers who work on CMSs.
Proto.io
Proto.io is an advanced prototyping tool for web and mobile apps (iOS, Android, and Windows) that allows adding animations to transitions. It is available in three versions: free, standard and pro.
MockFlow
MockFlow is a wireframing tool for graphic designers that includes stencils for UI elements and web layout stations with drag-and-drop functionality. Users can export their work to PNG or PDF formats to present it to the client or share it via MockFlow's online repository.
Pencil
Pencil is a scalable wireframing tool with stencils for mobile and web apps as well as different elements. It also provides collaboration functionality for multi-user projects, as well as version tracking capabilities to revert changes made in the project.
FlairBuilder
FlairBuilder is a versatile web app wireframing tool with several hundred elements and icons, as well as ready-to-use UI templates. It also includes a rich text editor, an integrated FTP client to manage the project online and different charts to present data in an interactive way.
Gliffy
Gliffy is a cloud-based wireframing tool that allows for collaboration among different users in real time. It is available as a subscription-based service, with different accounts for individuals and teams.
WireframePro
WireframePro is a basic wireframing tool with stencil libraries for mobile apps and web pages, as well as different widgets and UI elements. It also includes features to share projects via Dropbox, integrate the mockup into WordPress or show it in a live preview mode.
MockupScreens
MockupScreens is a mobile app and website wireframing tool that allows exporting the project to PDF, HTML or Photoshop for presentation purposes. It also has versioning capabilities and allows importing images from Sketch format with one click.
Wireframe tools are a practical alternative to traditional web design programs, as they allow creating wireframes and prototypes quickly and providing a better user experience. With various functionalities such as form validation and support for mobile platforms, the listed tools offer valuable features that developers can use to create high-quality apps in relatively little time.
Sunvera Software develops next-level software applications from start-to-finish. We are a premier software and mobile app development agency specializing in healthcare mobile app development, custom mobile app development company, telehealth software, sales dashboards, custom mobile app development services, retail software development, supply-chain software, ecommerce, shopify, web design, iBeacon apps, security solutions and unified access software.
We are proud partners with Amazon AWS, Microsoft Azure and Google Cloud.
Schedule a free 30-minute call with us to discuss your business, or you can give us a call at (949) 284-6300.