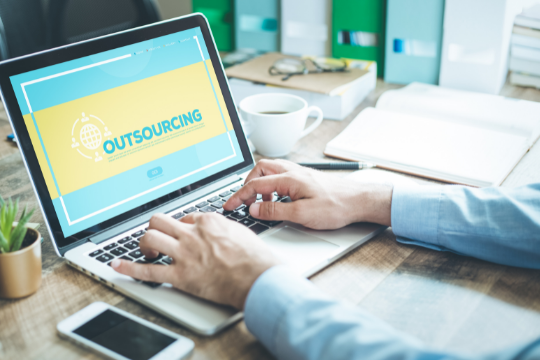 In today's day and age, outsourcing web development is a very common business practice. However, outsourcing can be difficult to manage without the proper knowledge. Here, we discuss why outsourcing web development is so valuable and what you can do to successfully outsource your company's website.
Why Outsourcing Web Development Is Important
When outsourcing web development, your company hires out a company in an area with a low cost of living to build out its website. The main benefit of outsourcing web development is that it can save companies thousands of dollars when developing or updating their websites. In order to understand how this works, you must first understand why it saves companies so much money.
As mentioned, outsourcing companies have a lower cost of living.  This is because the outsource web development company you hire may be located in a country where the average salary per year is much less than it would be if they were working out of your home town. This allows the web developers to charge lower rates, allowing you to outsource development for a lower price. This further allows companies to outsource more and build out the same website in less time than an in-house developer, saving your company even more money.
Why Outsourcing Web Development Is Not As Easy As It Sounds
The act of outsourcing web development is certainly not an easy task. There are many outsource companies out there that claim to be able to successfully outsource web development projects, but you should have a few qualifications in mind before hiring out your company's website.
First, the outsource company you hire must speak fluent English.  This is very important, though it may seem easier than it actually is. There are outsource web development companies out there that provide excellent services at lower prices, but if the outsource company cannot speak fluent English then it could prove to be a disaster.  Unclear communication will lead to problems in design and overall satisfaction.
Secondly, outsource companies must know how to outsource.  This means that they should be doing this very often and know all of the latest trends. If outsource companies cannot keep up with what's going on in the industry then they can create more problems than solutions for their clients.
Lastly, outsource companies must complete projects quickly. This is crucial as it helps your company save money since you may be charged hourly.
What To Look For In An Outside Web Development Company
When choosing outsourcing web development companies, it is important to find out what exactly you need out of the website and how the company outsourcing projects can assist. This may vary depending on where they are located.
For example, if you outsource website development out of India, you may want to ask what programming language they use and make sure they are able to code in your desired language. If you outsource out web design out of Brazil, it is important to consider the fact that many designers out of Brazil outsource web design out of Photoshop. It is important to make sure your outsourcing company uses the same outsource software you would use for website development as well.
Before you outsource out any work, it is important to do a lot of research into what companies are available and which ones have the best rates as well as years of experience. This can save you a lot of money in the long-run and ensure that your outsourcing company is capable enough to complete the job successfully within your desired timeframe so that you launch your website in time for business.
The outsource industry continues to grow as more and more companies outsource out the development of their websites.  It may seem like a daunting task at first, but it is well-worth looking into if you are interested in saving thousands of dollars on website costs.  As always, make sure that your outsource company speaks fluent English, knows how to outsource web design projects in a timely manner, and is able to meet all of your outsource requirements for website development.
Sunvera Software develops next-level software applications from start-to-finish. We are a premier software and mobile app development agency specializing in healthcare mobile app development, custom mobile app development company, telehealth software, sales dashboards, custom mobile app development services, retail software development, supply-chain software, ecommerce, shopify, web design, iBeacon apps, security solutions and unified access software.
We are proud partners with Amazon AWS, Microsoft Azure and Google Cloud.
Schedule a free 30-minute call with us to discuss your business, or you can give us a call at (949) 284-6300.