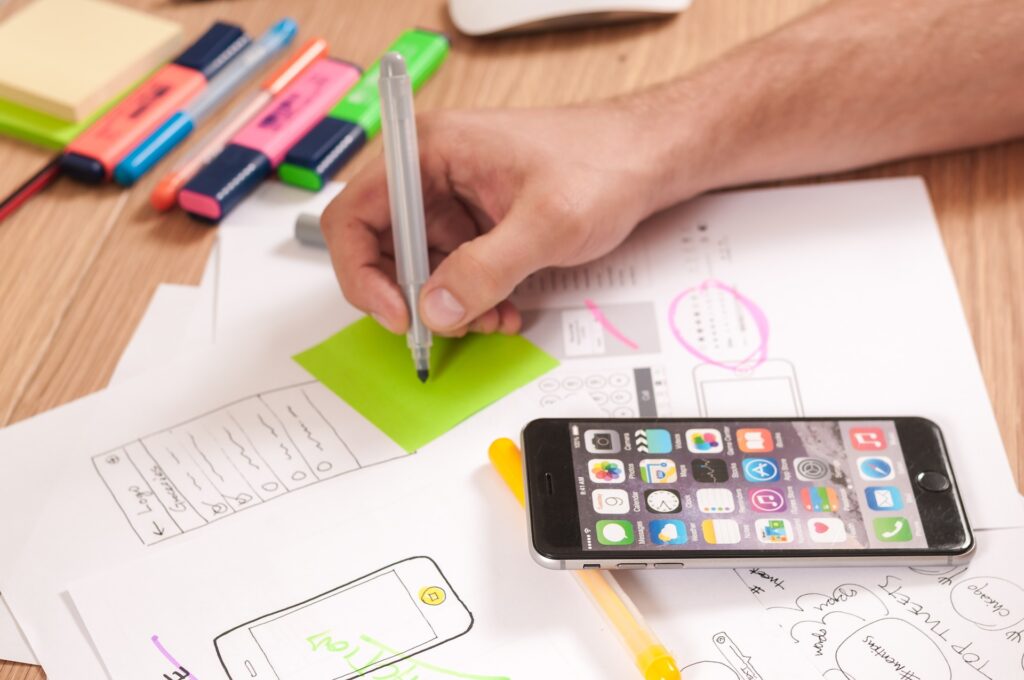 It takes a second to delete an app that does not work smoothly. With a plethora of options in the online marketplace, your app would be replaced right away if it is not optimized for performance and an effortless user experience.
With millions of apps in the app store, the successful ones have one thing in common; a great look and feel. All of your efforts at the backend might go into the drain if you don't invest time, effort, and capital in the UI and UX of an app. 
What are UI and UX?
First of all, it is important to note the difference between UI and UX. UI or the User Interface is the graphical layout of an app. The buttons, text, sliders, images, and any other elements that the user will interact with is UI. Cutting it short, UI is the mode of transfer of all the work that has been done at the backend. 
UX or the User Experience pertains to how the app operates, and whether or not it meets the requirements of the user. UX should be steered to make things easy and comfortable for the users. 
If the UI and UX aren't given due attention, your idea, no matter how revolutionary it is, might not survive in the market. 
205.4 billion apps were downloaded in 2020 and the number is expected to be 258.2 billion by the year 2022. People are shifting to mobile apps because of their efficient functionality and potential to get things done swiftly and if your app does not do that, it will not be able to save its place in the market.
Importance of UI/UX in Mobile Apps
An app with a great idea would thrive on paper. However, flawless functionality and a sophisticated design are a must-have to succeed in the digital market.
Below are a few points that discuss the significance of the UI/UX design of the app. 
Captivated Users
After your app is downloaded, the first few seconds are quite crucial. If your app has a compelling design and a good interface, the users will decide to keep using your app. However, if you don't create engagement through the design and content in the first few seconds, users will navigate to other apps in the store. 
Time and Cost Savings
An app with a good UI UX design would save users time as they would not have to fidget around the app to solve their problems. This will land you some good ratings and you won't have to work on updates thus saving money and time. 
Brand Recognition
Ratings are important for an app. A user will take some seconds out of their time to give you a good rating if you deserve it. This will help you build brand recognition and people would prefer your app over others due to the higher rating. Once you are on top of the list, your app will automatically get better rankings and more downloads.
People always remember good experiences. If you have invested in UI/UX app design, your brand will stand out and would speak for itself. It's a very simple phenomenon. People are getting what they want with a good design and no performance issues if you've invested in a good UI/UX design. That would pave the road for your brand recognition and you can get the customer engagement you have been waiting for. 
Tips to improve UI/UX in App Design 
Let's discuss a few important tips about UI and UX that you should keep in mind while designing an app. 
A consistent design should be followed throughout the app. Do not be limited to the start screen. Every part of your app including, buttons, sidebars, any sliders, and menus should have a consistent design. 
A user-friendly design allows the user to interact with the app and build a connection. Let the design interact with the app freely. People like the freedom of being able to customize the app, for instance, the layout and color scheme. 
Cluttering up your app will only confuse the users. Make it simple and easy to use. Your design will do no good to the user if it confuses them. Integrate a straightforward design that steers the user easily to get his/her task done. 
UI/UX design of an app is a crucial aspect of designing a successful app. Understand the needs and market preferences of your target audience to make necessary amends in your app. This practice goes a long way in securing a good place in the online marketplace. Lastly, you will want to partner up with a reputable mobile app development company to take care of the UI/UX aspect of your app. Contact us today for a free consultation.
References
https://uxplanet.org/what-is-ui-vs-ux-design-and-the-difference-d9113f6612de
https://uxdesign.cc/significance-of-ui-ux-design-in-mobile-application-f90b2c56c204
https://www.dotcominfoway.com/blog/importance-of-ui-ux-design-in-mobile-app-development/#gref
https://www.dotcominfoway.com/blog/6-tips-to-build-a-killer-iphone-apps-with-ui-ux-design/