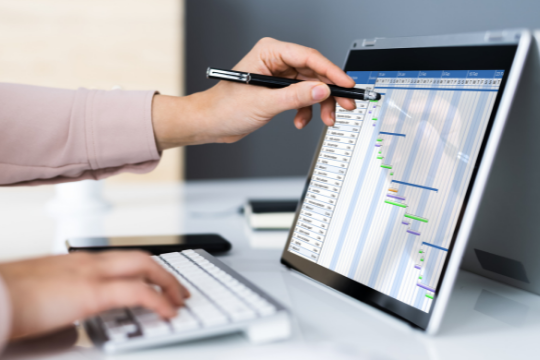 For every single business, using project management software is crucial. Whether you're operating as a company or launching your start-up, PMS can offer immense assistance in terms of organizing employees and resources across various projects.
Basically, the greater the number of collaborators involved in one project, the more complicated it becomes to manage everything effectively. The benefits of project management software determine how crucial it is for small businesses.
Importance of Project Management for SMBs
Oftentimes, small businesses owners wear many hats. They may be responsible for sales, marketing, accounting, and product development all at the same time. This can lead to chaos and a lack of focus if not properly managed. To succeed, SMBs need to implement systems that will help them manage their time and tasks more efficiently.
This is where project management comes in. By using a PMS, business owners can create a structure for their team and assign specific tasks to different individuals. This way, everyone is aware of what they need to do and when it needs to be done.
Not only does this help with organization, but it can also improve communication between team members. In some cases, it can even help to prevent conflicts from arising.
Why Not Just Use Google Docs?
Of course, project management software isn't the only way to keep track of tasks. At one point or another, business owners may ask themselves why they should even bother with investing in project management tools when Google Docs is free.
The fact is that Google Docs will allow you to create docs, share them with your team, and collaborate on a project. The problem is that you can't assign roles to specific users.
This means that it would be up to the company owner to do everything on their own, from coming up with deadlines and assigning tasks to doing time-tracking and reporting. This can be more trouble than it's worth, especially for smaller businesses.
Useful Features of Project Management Software
When looking for a PMS, it's important to consider the features that are most important to you. Not all software is created equal and not every program will offer the same features.
Some of the most common features that are found in project management software include:
Gantt Charts
This feature allows you to create a visual representation of your project. You can see what tasks need to be completed and when they are scheduled to be finished. This can be helpful in terms of spotting potential conflicts and ensuring that everything is on track.
Milestones
Milestones allow you to mark specific points in your project that need to be reached. This can help you to stay focused and ensure that you are making progress.
Reports
PMS often comes with reporting features that allow you to track the progress of your project. This can be helpful in terms of measuring the success of your project and identifying areas that need improvement.
Time Tracking
PMS also often come with time tracking features. This allows you to see how long different tasks took to complete and identify which tasks are taking up too much time.
Project management software for startups and small businesses is essential. If you want to ensure high productivity with minimal effort on your end, then it might be worth investing in a PMS platform today.
Sunvera Software develops next-level software applications from start-to-finish. We are a premier software and mobile app development agency specializing in healthcare mobile app development, custom mobile app development, telehealth software, sales dashboards, custom mobile app development services, retail software development, supply-chain software, ecommerce, shopify, web design, iBeacon apps, security solutions and unified access software.
We are proud partners with Amazon AWS, Microsoft Azure and Google Cloud.
Schedule a free 30-minute call with us to discuss your business, or you can give us a call at (949) 284-6300.