Explore the latest trends in Artificial Intelligence and mobile app technology.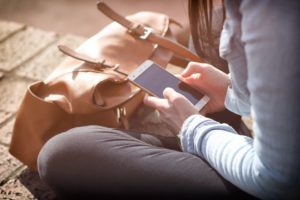 Long gone are the days when cell phones were deemed a distraction in the classroom.  Today's learning is enhanced by SMART boards, tablets, and most importantly Artificial Intelligence.  A new generation of young people raised on technology will enter the marketplace in the coming years.  Is your business prepared to meet the challenges of AI in a world of tech giants?
But what exactly is Artificial Intelligence?
We have all heard the phrase "Artificial intelligence" tossed around in SyFy movies such as "Star Wars," "The Matrix," and "The Avengers." But what exactly is Artificial Intelligence?  In the future, will we all be Tony Stark flying through the sky reliant on J.a.r.v.i.s?
Not quite.
Artificial Intelligence, or AI, in simplest terms, is a learning machine capable of natural language processing, machine vision, and knowledge management.
AI is garnering the fastest development speed in large companies such as Google and Amazon—companies searching for innovative methods to engage with and organize their consumer.
How is Artificial Intelligence used in Mobile Apps?
If you have ever entered a millennial's home, you may have heard the phrase "Hey Siri what time is my meeting?" or "Alexa what's the weather like?"  In 2018, the NPD group reported that one quarter of all millennials have begun building smart homes and are twice as likely over the general population to build a smart home in the future.  Integrating Conversational User Interface (CUI) appears to be the trendiest AI mobile app technology on the market.  Young people are drawn to the idea of holding a powerful remote to their homes in the palm of their hand.
In the office, mobile apps like Google G Suite and Microsoft Office 365 are working to reduce the clutter of communication and create a more efficient way to send quick information.  As Amazon and EBay invent new mobile app algorithms to improve the user experience, your business could also be forward-thinking in your mobile app designs.
Where Do We Begin?
SunVera Software can help your company stay ahead of the curve by working with your IT team to invent new and exciting technology once thought unimaginable.
For help with your "Mobile App Development" project, call us at +1 949 284-6300 or email us at [email protected]. Alternatively, you can Schedule a free consultation.