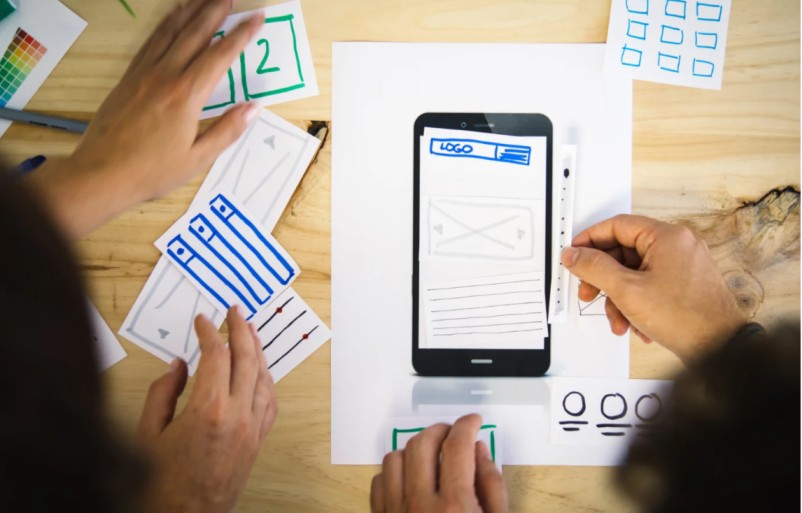 It is critical to have a website that looks great on mobile devices if you want to be a successful business in today's saturated digital economy. The United States has the most mobile phone users behind India and China, which implies that having a solid app content strategy has become essential to survive in the digital world.
The content you give through the app is at the heart of how well it will work, playing a key part in attracting the ideal users. What we mean by app content is anything you use to keep app users engaged, whether it is entertainment or any kind of important information. Now, simply providing outstanding information isn't enough to entice users to visit your app and remain; how you deliver the content, when you deliver it, and in what way you deliver it is also very critical for app content. Overall, you must have a well-thought-out content strategy in place to reap any benefits from it.
Some companies use the same long-form material on mobile as well. This is ineffective. In reality, 'Less is More' when it comes to mobile phones! A good app content strategy design is useful for both mobile apps and mobile websites as well. Users should not have to browse endlessly through large slabs of content on their phones, as per the content strategy for mobile apps. You must personalize information to the device they're using. Button locations, font size and type, color combinations, call-to-actions, and other mobile components are all part of this mobile experience. The goal is to make the content consumption process as simple and feasible for your app users. Make sure that the amount of squeezing and magnifying required by your app's subscribers is kept to essentials so that the information is provided in a palatable fashion.
So now that you understand the need to optimize your content for mobile phones, it is time to get to work on developing a mobile app strategy that will help your app succeed while also providing value to the experience your app users enjoy with it.
Here we mention some tips that you should implement.
Make user interface elements clearly visible
When compared to the experience on a desktop or laptop computer, comprehension of content on an app is much worse. This is because the mobile app contains far less information. There can be detailed information on a business, products, services, or any other item on a website or when users consume information on the website through a desktop or laptop computer. When it comes to creating a nice app experience, however, a lot of text from the website must be removed due to the limited screen space. That's why developers must take steps to ensure that the various user interface elements are precise, well-placed, and clearly communicate their purpose and goal.
Limitations must be clearly defined and outlined
You must establish limits or boundaries for all the content that you will post on your app. This isn't necessarily a drawback; in fact, it can assist you and your team in achieving a high level of crispness in the app's content. It's critical to have a clear limit for the copy or input fields as the team collects, develops, or curates the content that will be used in the app. This allows content creators, developers, and the rest of the team to collaborate in a more cohesive and organized manner. When writers are aware of the minimum and maximum character constraints, they are more likely to produce well-formed and unambiguous text.
Make various content models
It is ridiculous to expect you to get everything correctly the first time! This is why, in your app design, you should experiment with different lengths of a copy. This is especially important when working with screens where the copy will change. Also, keep in mind that you can't just build one screen with the appropriate length of content. When creating the screen, make sure it doesn't appear empty because you only put the bare minimum of copy on it, nor does it appear to be packed with content. The design and development team must plan for this scenario by creating an alternate design for the app's screen. These alternate screen various objectives may need to be imposed automatically so that when the copy displayed on the screen is too short or too long, it can be altered appropriately. That is why your app's screen designs must be adaptable, and your development and design team would have to be adaptable for every version while maintaining a good balance of critical content.
Add more advanced content
The golden rule of copywriting nowadays is to write as you speak. This ensures that you have the greatest degree of clarity possible. Another crucial part of creating high-quality content for your mobile app is understanding what you must say and what you must leave out. This means that if you're trying to make a point and you get the sensation that some of the stuff you're including is a little "extra," it probably is. You may either remove it totally or simply include a hyperlink that directs app users or readers to a separate page where they can read everything in detail. This will ensure that your app user's concentration is solely on the genuine topic, with little to no distractions. As previously said, the average app user's attention span is extremely short and is just getting shorter. As a result, you will want to make sure that any material you put in your app is simple and feasible.
Sunvera Software develops next-level software applications from start-to-finish. Schedule a free 30-minute call with us to discuss your business, or you can give us a call at (949) 284-6300.