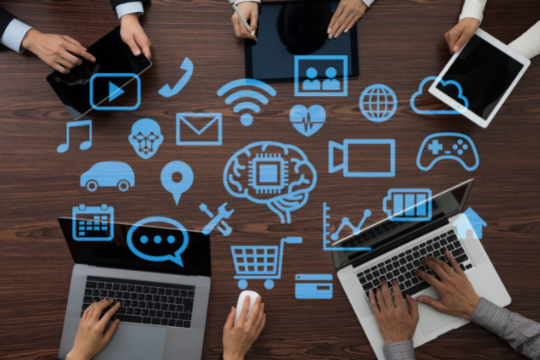 Off-the-shelf software provides companies with readymade solutions that are easy to grab-and-go. Custom software is built from scratch to fulfill a customer's need for a unique solution. Both off-the-shelf and custom software solutions have their own merits that make them ideal for certain types of businesses and projects.
Benefits of Off-the-Shelf Software
Easy-to-use by average computer user

Necessary components already included

Extensive documentation / help guides

Do not need to develop software

Less expensive

Can use right away
To start off, off-the-shelf software such as popular applications from Microsoft Office are designed to be used by the average computer user. This makes off-the-shelf software very intuitive to use, which is a major advantage in an enterprise setting where employees will be using it regularly for work purposes. In addition, off-the-shelf software usually has all the necessary components already built into it, making deployment easier than with custom developed software. Additionally, off-the-shelf applications include extensive documentation which allows users to learn how to operate the application quickly.
Being able to offload the burden of developing software is a big advantage off-the-shelf software has over custom software. Off-the-shelf software comes with standard features, functions and reports that are designed for businesses' common application requirements such as human resource management, inventory control, payroll, accounting etc. As organizations can choose from a rich variety of off-the-shelf solutions, they don't have to spend resources on research and development or test and evaluate new products. Moreover off-the-shelf applications provide readymade solutions that do not require companies to retrain staff members who will be using them. off the shelf business software can be easily configured or extended to satisfy a variety of needs. off the shelf business software has low cost and is easy to acquire. off-the-shelf business software allows organizations to focus their resources on specific customizations or extensions rather than building a custom solution from scratch.
Disadvantages of Off-the-Shelf Software
Might not meet all business needs

Less flexible
The main disadvantages of off-the-shelf software are that business needs can often be more specific or unique than off-the-shelf solutions. This means off the shelf software may not be able to fulfill all of an organization's requirements. In addition, off-the-shelf applications do not have the ability to integrate data from external sources into their system.
Since off-the-shelf software is already developed and ready for use, off the shelf application development costs tend to be lower than developing a custom solution. However, off-the-shelf applications are limited in functionality by what they were designed for and what ingredients have been included during development. Therefore, off the shelf enterprise software does not allow companies to tailor it to support unique business processes.
Benefits of Custom Software
Allows for greater flexibility

Can integrate with readymade software

Can scale up or down

Customize as much as you want
Custom software is designed to fit an exact need. It makes use of off-the-shelf software components, but it may be built from the ground up using in-house programmers. While off-the-shelf software can address many business challenges, most businesses encounter issues that necessitate custom solutions.  
Custom software development has many advantages. These specifically tailored software solutions can be used to address off-the-shelf products' limitations, such as lack of integration, inability to scale up or down, or difficulty in customization.  Custom-built software allows businesses to develop solutions that are tailored to their exact needs.  For example, the software can be designed to better fit the company's unique business processes.
Customization simplifies business operations by enabling information integration and data exchange with other systems such as ERP or CRM. This boosts productivity and enhances workflow, making it easier for employees to access vital information at all times. Custom software has the ability to integrate seamlessly with enterprise applications without incurring any additional costs because of this customization.
Businesses that shall operate in several countries can customize their off-the-shelf software to make use of local language support as well as legal regulations for each country. They are also able to choose from a variety of currencies which will help them track expenses in different countries more accurately than off the shelf software that is not customized.
Disadvantages of Custom Software
Longer time to develop

More expensive
The main disadvantage of custom software is that it takes longer time to develop than just buying an off-the-shelf software and using it. Some companies do not have the patience for this, and tend to gravitate toward the off-the-shelf options, sacrificing flexibility.
Custom software is more expensive than off-the-shelf solutions because off-the shelf enterprise application development costs usually do not include customization. Custom programs also require testing and documentation which are additional expenses that off-the-shelf applications do not incur. However, off the shelf software can have hidden costs for organizations that don't consider what changes may be needed as their businesses change over time.
Cost to Develop Custom Software
If you decide to go for the custom software development option, it is important to get a heads up on what costs will be incurred in the process.  Custom software development cost estimation mainly depends on two factors: how the custom-made software is being developed and what / how many features it will have.
Custom software is designed for a specific business. Therefore, custom software development costs are directly proportional to the features of the custom built application which includes future upgrades/maintenance via custom programming services, the time period allotted for custom development, i.e., whether it is short or long term scope of work based on commitment from clients end; this can be anything from 6 months to 12 months, etc., based on your requirement as per dialogues with your client manager.
So how much does custom software cost? That's difficult to answer because custom software companies charge by the hour. The software company you choose might have a fixed price for certain customizations, but you may not get everything you want in custom development at that price.
The cost of developing custom software depends mostly on how complicated it is to implement. A simple enterprise solution might be comprised of one database coupled with one front end while an e-commerce system might require several interconnected databases along with different data entry screens and extensive reporting elements to display and track custom statistics.
To conclude, the cost to develop custom software depends on the level of complexity for your needs.
Sunvera Software develops next-level software applications from start-to-finish. Schedule a free 30-minute call with us to discuss your business, or you can give us a call at (949) 284-6300.