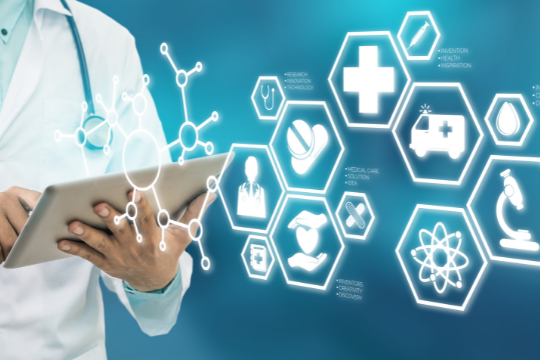 In order to run a smoothly functioning healthcare facility, automating various time-consuming and mundane processes can be extremely beneficial. From billing procedures to patient scheduling and appointment reminders, the advantages and applications of automation in healthcare are numerous.
Here are some of the benefits of automation in healthcare:
Cost Savings
Automation will enable healthcare organizations to cut down on manual processes, thereby saving on man-hours utilized for carrying out routine tasks. Apart from cutting costs, automating healthcare processes will also ensure that there is greater efficiency in health care facilities.
Reduced Human Errors
Although automation will only partially eliminate the risk of human error, it can reduce the risks to a great extent. Automation can ensure that human errors are reduced by automating various processes, thereby ensuring accuracy in the process of healthcare automation.
Ensures Accuracy in Medical Records
When automating health care facilities, you need to be sure that medical records are error-free. You can create a distinct database for storing all sorts of patient records, including the diagnosis and treatment details. You can also include information about the patients' family history and previous treatments undergone by them in implementing automation in healthcare.
Enhances Patient Satisfaction With Automation in Healthcare
There are a number of healthcare systems that can be implemented for automating the patient experience. For instance, automating various processes pertaining to appointment scheduling will ensure that patients do not have to wait at long queues, thereby enhancing their overall experience at the doctor's office.
Implications of Automation in Healthcare
Less Paperwork Associated With Healthcare Billing
While automating healthcare processes, you will come across a lot of tedious paperwork which involves editing and then re-editing medical bills to be submitted to insurance carriers. Needless to say, automating this will eliminate a number of redundant tasks associated with the healthcare billing process.
Automating Patient Scheduling and Reminders
For automating healthcare facilities, you need to ensure that each and every patient is made aware of their appointments and given timely reminders beforehand. You can automate the scheduling process, and automate various reminders associated with patient appointments. Through automating the appointment scheduling and reminder process, healthcare organizations can ensure that patients are given timely reminders for their appointments, thereby ensuring greater appointment attendance rates.
Assists With Proper Inventory Tracking and Drug Management
Automating inventory tracking is one of the most important aspects to consider if your healthcare organization is looking into automation. You can create an inventory database which can be used as a reference point for automating various processes pertaining to the healthcare facility's inventory. Apart from maintaining inventories, you can also automate the drug management process, which will ensure that prescriptions are issued to patients in a timely manner, thereby eliminating unnecessary delays.
Automating Patient Education and Medical Research
As a healthcare organization, you will need to be sure that your patients are aware of their disease conditions. Now, you can automate various educational brochures used for automating health care facilities. Apart from automating educational brochures, various scientific research and case studies related to a specific medical condition can also be optimized.
Communications Between Healthcare Professionals With Automation in Healthcare
Automation in the healthcare industry will make it easy for various medical professionals such as doctors, nurses, and pharmacists to communicate with one another seamlessly, without the need for paper communication. This will eliminate a lot of unnecessary delays, thereby ensuring greater efficiency in automating the healthcare sector. Apart from automating communication between various medical professionals, you can also automate interactions with insurance carriers to speed up the medical process.
Sunvera Software develops next-level software applications from start-to-finish. Schedule a free 30-minute call with us to discuss your business, or you can give us a call at (949) 284-6300.