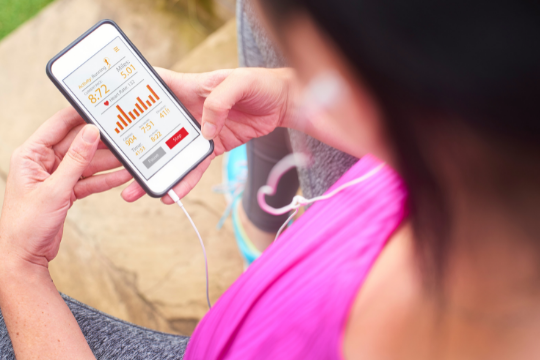 The world is becoming increasingly mobile with the advent of advanced smartphones. As this transition occurs, there are innovative ways in which to improve both personal and public health. Mobile phone applications are one way in which to reach various segments of the population. Mobile phone users have downloaded billions of apps. This trend has created an opportunity for developers to take advantage of the smartphone infrastructure for healthcare purposes and create mHealth apps.
With mobile apps, there are countless possibilities. The CDC (Centers of Disease Control and Prevention) has created various mobile phone apps that help consumers take charge of their health by gaining access to health services, safety information, or other tools. For example, "Flu Near You" can track flu outbreaks in near real-time. This app can help medical professionals, government agencies, and the general public be aware of the current flu levels within communities.
Let's go over how healthcare professionals can design the perfect healthcare app that serves a dire need.
Examine The Healthcare App Market
When examining the healthcare app market, it is crucial that you identify a problem that needs to be solved. This problem needs to be something that is currently not being addressed through an existing medium. Furthermore, this market need should pertain to the general public; thus creating a broad scope for your healthcare app design.
An example of a mHealth problem that needs to be solved is the lack of reliable data on illness and disease. According to the World Health Organization, it is estimated that "80% of chronic diseases and injuries" could be prevented by modifying lifestyles and adopting healthy habits.
With this in mind, we can create an app that helps people adopt healthy lifestyles.
Analyze Your Market
But wait! Before you get to developing, you need to analyze your target audience, to see if it is even worth creating the app. This process should include doing a SWOT (Strengths, Weaknesses, Opportunities, and Threats) analysis of your target audience.
Let's say your target audience is the elderly. How exactly will an app help them? What are their lifestyle habits? These are all questions you need to consider when creating the perfect healthcare app to serve your target audience.
Determine Your Budget
Typically, developing an app for a mobile device can be costly. Therefore, it is important to determine how much money and time you have before you even begin the development process. You don't want your app to flop because of lack of funding or resources.
In order for this not to happen, create a budget plan that includes both the time and money needed to design the mHealth app.
Decide Who Will Develop Your App
With the rise of mHealth apps, there are an increasing number of software developers. However, it is important to choose a developer that specializes in this emerging field, such as these healthcare software development companies. Since healthcare applications have specific requirements and limitations, it would be best to find a company or individual who has experience with healthcare app development.
Picking a good software development company goes beyond the scope of this article. But, there are resources out there that can help you find professionals who fit your specific needs.
Rigorous Testing After Development
Just because your app was developed, doesn't mean it will be an effective healthcare app. After development, you need to thoroughly test the app so that it performs as expected for all users.
After testing is complete, gather feedback from customers and potential customers involved in the testing process. Their input may help you find bugs or errors in the design.
Is Your Healthcare App Secure?
This is especially important for healthcare apps since personal information such as medical records may be involved.
It's best to hire a third-party company that specializes in IT security to ensure your app is completely safe and secure.
It is also CRUCIAL that your app is HIPAA compliant. It's a requirement for all healthcare apps.
Create a Marketing Plan
In order to make your healthcare app a success, you need to create a marketing plan. The marketing plan should include a budget and a personal strategy for promoting the mobile health app design.
When it comes to mobile health apps, there are two main types: telemedicine apps and mHealth apps. There is much debate as to which one is more effective. We recommend that you create a marketing plan that includes both telemedicine and mHealth campaign strategies in order to cover your bases.
Some good healthcare marketing strategies include:
Social media marketing
Public relations (blogs, events, etc.)
SEO (finding ways to get found on search engines like Google)
Another marketing strategy that we highly recommend is creating buyer personas for your mHealth app. These "personas" should be a real person who encompasses your target market.
An example of a buyer persona for the elderly would be:
Jane Smith is an elderly woman struggling with weight loss. She wants to exercise and eat well, but doesn't know how much help she needs. She values her privacy and wishes to access medical information easily and conveniently. Jane is a busy mom with a large family, so she needs an app that would be easy to use in her free time.
Creating your own healthcare app can be an overwhelming process. But, it doesn't have to be if you follow these steps to create the perfect mHealth or telemedicine app design.
By doing thorough research and implementing a good marketing plan, you can turn your idea into an innovative solution for your target audience.
Maybe even help improve the lives of others.
Sunvera Software develops next-level software applications from start-to-finish. We are a premier software and mobile app development agency specializing in healthcare mobile app development, custom mobile app development company, telehealth software, sales dashboards, custom mobile app development services, retail software development, supply-chain software, ecommerce, shopify, web design, iBeacon apps, security solutions and unified access software.
We are proud partners with Amazon AWS, Microsoft Azure and Google Cloud.
Schedule a free 30-minute call with us to discuss your business, or you can give us a call at (949) 284-6300.