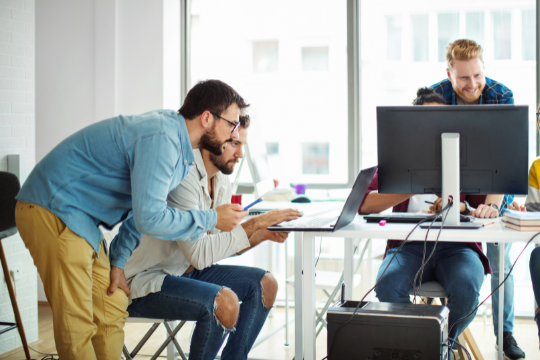 As we see a light at the end of the tunnel that is COVID-19, many entrepreneurs are thinking about how they can start a post-pandemic business. The good news is that the process is very much like what it was before the coronavirus. You'll need a good idea, a lot of gumption, and the right tools to be a success. Here are some great tips for how you can start and grow a business as we return to normal.
Coming Up With Ideas
Before you try any of the other tips discussed in this article, you need to come up with an amazing product idea that will turn a profit as time goes on. If you are not sure what type of product to offer, then you can start by thinking about what you are good at. So, if you have writing skills then you might start a business designing websites for others. Or if you love to make crafts then you could consider mass-producing one of your most popular items and selling it online.
If you still cannot come up with an idea but you really want to get into business, then consider networking with other entrepreneurs at job fairs or online on websites like Linkedin.
Forming a Business Entity
Once you have your idea figured out, you'll want to decide how you'll form your business. There are many different structures available, from sole proprietorships to S Corps, but as a new business owner, you might consider a limited liability company. An LLC is great for beginners because there is often less paperwork to complete and you have more options as your business grows. Plus, if you are short on funds then you could potentially catch some breaks come tax time.
Secure Funding
Now that you have a legitimate business, you want to secure funding so you can get your operations up and running. You should first consider how much money you'll need to get off of the ground, then you can start by going to banks where you can apply for business loans. If that doesn't work, consider checking out the options available at the Small Business Administration. If you are unable to secure a loan due to your credit score then your options will be limited but you are not out of luck. You could ask friends or family for money or you could try a crowdfunding campaign on a site like Kickstarter or Indiegogo.
Work With Accounting Software
Many businesses choose to use accounting software to help manage their finances. Accounting software can help you keep track of your income and expenses, create invoices and track payments, and prepare tax returns. It can also help you manage your inventory and customers. In addition, using accounting software can save you time and money by reducing the need for paper records and eliminating manual data entry. You can also gain insights into your business finances that would be difficult to obtain without software. As a result, you can run your business more efficiently and effectively.
Marketing
Your next step is to bring more customers through the door which you can do with good marketing. First, consider who your target demographic will be (e.g., teens, stay-at-home moms), so you know where you should direct your campaign. Next, think about how you plan to reach those individuals. Many companies go with email marketing because emails are inexpensive to produce and easy to send.
However, keep in mind that you don't have to go digital at all. For instance, one way to go is by handing out physical business cards. Many people think that business cards are outdated, but they are a great way to give your customers something tangible that they can remember you by.
Build an App
In today's increasingly digital world, more and more businesses are turning to apps to help them reach their target audiences. And there are good reasons for this! An app can help you engage with your customers in a new and exciting way, providing them with an easy way to access your products or services on the go. In addition, an app can help you stand out from the competition and build brand loyalty. Finally, an app can be a great source of revenue, giving you another way to monetize your business. So if you're thinking about taking your business to the next level, trust the expert app developers at Sunvera Software to build state-of-the-art mobile solutions.
Sunvera Software develops next-level software applications from start-to-finish. We are a premier software and mobile app development agency specializing in healthcare mobile app development, custom mobile app development, telehealth software, sales dashboards, custom mobile app development services, retail software development, supply-chain software, ecommerce, Shopify, web design, iBeacon apps, security solutions and unified access software.
We are proud partners with Amazon AWS, Microsoft Azure and Google Cloud.
Schedule a free 30-minute call with us to discuss your business, or you can give us a call at (949) 284-6300.