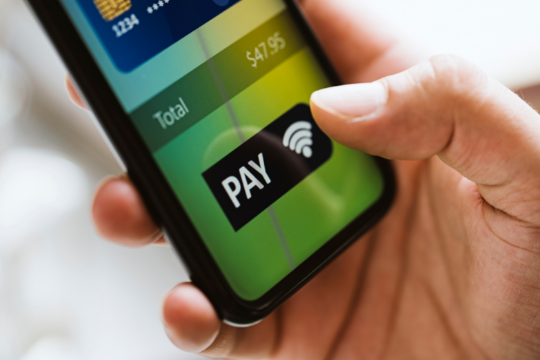 Now that the holiday shopping season has officially begun, it is important to ensure that merchants are making every attempt possible to meet consumer demand by offering an amazing customer experience.  Mobile apps designed for retail offer numerous benefits that can improve the buying process and foster customer loyalty; therefore, they are especially beneficial during this busy time of year.
The Essential Features of a Retail Mobile App
Before discussing the benefits of retail mobile apps, it is important to first outline the essential retail mobile app features that all such apps should include.
#1: Interaction is Key
Interaction with customers must be a priority for retailers if they want to stay competitive.  Mobile apps enhance this interaction by providing users the ability to easily connect with merchants through social media channels, send them messages, and contact customer service quickly when problems arise.
#2: Easy Navigation + Personalization
In addition to interaction, mobile apps should also offer users easy navigation that makes it possible for them to quickly find what they are looking for.  Furthermore, retailers should utilize data analytics to gain insight into the needs of their customers and use this information to personalize app experiences, which helps foster loyalty.
#3: Location-Based Services
Another essential feature of retail mobile apps is the ability to use location-based services.  This allows customers to find nearby stores, receive real-time alerts about sales and promotions, and even make direct purchases from their phones.
8 Benefits of Mobile Apps for Retailers During the Holiday Season
Now that the essential features of retail mobile apps have been outlined, it is time to explore the benefits they offer during the holiday season.
#1: Boost Sales
By offering a mobile app that provides consumers enhanced customer service and valuable promotional information, retailers can boost sales significantly.  For example, by using location-based services to send coupons and remind them of upcoming sale events, you can easily drive traffic to your store or website.
#2: Better Utilization of Social Media
The holiday shopping season is an excellent time to give your social media channels a boost.  By including these features in retail mobile apps, you can take advantage of the excitement surrounding the holidays and use it to attract new customers.
#3: Enhanced Customer Support
As mentioned above, retailers need to provide excellent customer support through their mobile apps.  This can be done by providing a variety of ways for customers to connect with your company, including social media, messaging, and phone support.
#4: Increased Visibility
One of the best things about retail mobile apps is that they offer increased visibility to customers.  This is due to the enhanced social media integration mentioned above, as well as by offering customers quick and easy access to sales and other promotions.
#5: Improved Personalization
Personalization is a key benefit of retail mobile apps because it enables merchants to provide an experience that caters to individual customers and their needs. Retailers can use customer data to personalize apps and ensure that customers can quickly find what they are looking for.
#6: Brand Recognition
When a customer shows loyalty to a retail brand, it builds the company's reputation and visibility.  This is why incorporating social media sharing capabilities into your mobile app will help your business become top of mind for consumers.
#7: Greater Engagement
The holiday season is a time when customers are highly engaged with their shopping.  By providing them with a retail mobile app, you can keep them engaged with your brand and ensure that they have a positive experience.
#8: Easier Access to Coupons and Other Promotions
One of the biggest benefits of retail mobile apps is the ability to offer customers quick and easy access to coupons, discounts, and other promotions without forcing them to search your website.  Instead of scouring through emails or print advertisements for a coupon code, they can simply open their app and then tap on a promotional notification that takes them directly to the desired deal.
Ways To Grow Your Retail App During The Holiday Season
With the holiday shopping season in full swing, you must start implementing marketing tactics that will help generate interest in your retail mobile app.  By following these tips, you can ensure your business is gaining maximum exposure during this crucial time of year.
#1: Update Your Social Media Presence
If you haven't already, now is the time to update your social media profiles and make sure you are offering an excellent customer experience through these platforms.  The holiday shopping season is in full swing and social media is a great way to keep in touch with customers and offer them valuable discounts and promotions.
#2: Send Out Holiday E-mails
Another great way to market your retail mobile app is by sending out holiday-themed e-mails.  Make sure you are taking advantage of the increased attention that the holidays bring and use it to highlight the unique features of your app.
#3: Increase Ad Spend
If you have the budget, consider increasing your ad spend during the holiday shopping season.  This is a time when people are actively looking for deals and discounts, so make sure your business is at the forefront of their minds.
#4: Host a Giveaway
Hosting a giveaway is a great way to increase exposure for your retail mobile app. By giving away prizes like gift cards or merchandise, you can generate interest and drive downloads.
#5: Run a Contest
Another great way to increase engagement with your retail mobile app is by running a contest.  This can be done in conjunction with a giveaway or on its own.
#6: Leverage Influencers
If you have the budget, leveraging influencers can be a great way to get your app in front of lots of new customers.  Influencers are experts in their field and have built up large followings on social media channels like Instagram, Twitter, and YouTube.
The holiday shopping season is a time when retailers must take advantage of every opportunity to increase exposure for their business.  By following the tips in this article, you can ensure that your mobile app for your retail store is getting the attention it deserves.
Sunvera Software develops next-level software applications from start-to-finish. We are a premier software and mobile app development agency specializing in healthcare mobile app development, custom mobile app development, telehealth software, sales dashboards, custom mobile app development services, retail software development, supply-chain software, ecommerce, shopify, web design, iBeacon apps, security solutions and unified access software.
We are proud partners with Amazon AWS, Microsoft Azure and Google Cloud.
Schedule a free 30-minute call with us to discuss your business, or you can give us a call at (949) 284-6300.