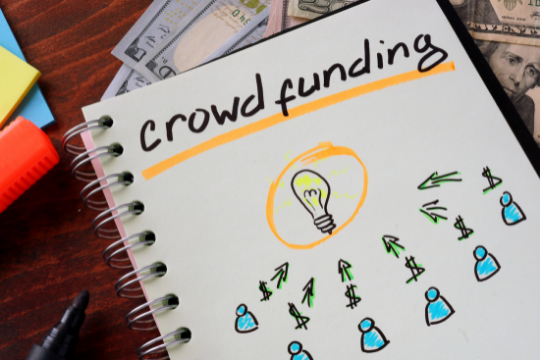 Crowdfunding has become the pulse of the internet, a way to get creative juices flowing and support an idea in other words. With all the money and free resources out there for people that want to create something, why are charities turning to a crowdfunding website? Well, it turns out these types of fundraising sites are increasing in popularity because they offer fundraisers an opportunity to reach out directly to their fans or supporters.
Crowdfunding Website for your Creative Idea
It's a win-win situation for both parties as the fundraiser gets enough donations from their fans without having to put most of their own money upfront. The fan gets rewarded with not only a new product or service but also with early bird access that isn't available through other means. Kickstarter is one of the most famous crowdfunding websites where countless artists and creative individuals have raised funds and donations for their projects.
These websites allow the users to launch their own crowdfunding campaigns but if you want to create a crowdfunding website, you can avoid these fees charged by these sites. In this guide, we are going to go through seven steps of how to create a crowdfunding platform.
How to Create a Crowdfunding Website in 7 Steps?
Before starting the crowdfunding platform, you must know how much it costs to start a crowdfunding website. You can consult with the premium software development firm in this regard. Make sure to choose the software company that has experience in the relevant field. Not every typical software house can understand the working and design cycle of crowdfunding websites.
7 Steps to Create a Crowdfunding Website
The best way to easily start a crowdfunding website is to hire a reputable software development company. The developers will work with you in the initial phase and once you have provided all the details, your job is done and the team will start creating a crowdfunding website. Whether you choose to go with a development company or another option, you must still be familiar with the steps to create a crowdfunding website.
Here are the 7 steps to create a crowdfunding website:
1.  Decide on the Name and Domain Extension for Your Website
Just like starting any common website, you need to choose the relevant domain name for your crowdfunding site. The name of the website can be the name of your project or any other word or phrase that relates to the main purpose of the crowdfunding campaign. The extension of the website can also vary as to if it's for social work, you can go with the .org extension. For the global audience and business-related projects, .com is the best option. For the local audience, you can choose the country extension too.
2.  Research Your Target Audience
This is one of the most important steps to create a crowdfunding website. Studying the target audience is important because you will only want to attract those people who are related to your field of work. For example, if you are creating a crowdfunding website for a music academy, your target audience must be music lovers. The same goes for other types of projects.
3.  Sketch Out What Kind of Layout You Want for Your Site
This is the step where you must ask for help from professionals. In this step, you can draw the concept on plain paper to present to your developer. If you like any specific website and want to get a similar website design, you can ask your development team to take inspiration from that site.
4. Determine How Many Rewards To Offer
When investors put their money into your project, they expect some return and benefits from your project. The website clearly needs to mention the reward and benefits that you are offering. You need to do some research on this part because there are different ways to set the reward for the investors depending upon their investment and donation.
5.  Pick a Theme for Your Site and Design the Layout
Once you are done with the research work and have a basic idea about what you want to achieve with the crowdfunding website, here comes the actual development part. There are several website development platforms where you can design and develop your crowdfunding website but these options pose different limitations. If you are lucky, you might be able to find the relevant theme that offers the desired options.
6.  Hire Developers To Code the Site or Outsource the Work
There are different technical steps such as adding the payment gateways that you may not be able to do on your own. It is highly recommended to hire the software development teams so they can securely integrate the payment gateways. If you make any mistake at this step, you may put your entire project at risk. Only a premium development company should handle these steps.
7.  Get Feedback From Others
Everything may look super fine but there are always some points where you can make improvements and the best way to solve errors is to ask for help from someone who has already done it. If you have a friend or colleague who has already created a crowdfunding website, you can ask him to review the site. You can always ask the team to make the required changes before the launch.
Conclusion
This will be your chance to go on a journey of self-discovery and live what you love. Make these goals yours and achieve them. Crowdfunding can be very difficult at times, and there are mistakes that business owners should avoid if they want to succeed in the industry.
Crowdfunding is better than borrowing money from friends or family because it provides a social aspect with other people who believe in your project and your vision. You don't have to worry about giving collateral or paying interest rates back because it's easy and fast as well. You just need to partner with the right software development firm that can take care of things that matter the most.
Sunvera Software develops next-level software applications from start-to-finish. We are a premier software and mobile app development agency specializing in healthcare mobile app development, custom mobile app development company, telehealth software, sales dashboards, custom mobile app development services, retail software development, supply-chain software, ecommerce, shopify, web design, iBeacon apps, security solutions and unified access software.
We are proud partners with Amazon AWS, Microsoft Azure and Google Cloud.
Schedule a free 30-minute call with us to discuss your business, or you can give us a call at (949) 284-6300.