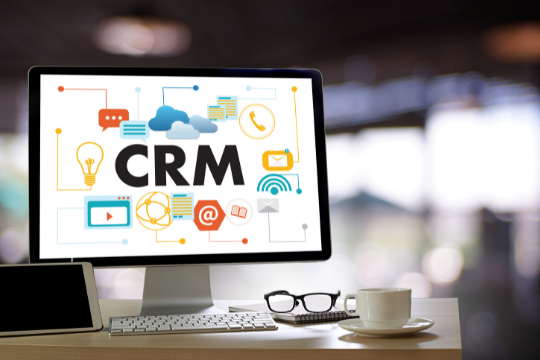 Custom CRM software helps a business in managing its many operations. Every company has its own number of processes that it follows on a routine basis. By automating certain tasks, a custom CRM streamlines company processes.
Customized role-specific dashboards are possible with a custom CRM. This makes the job simpler for the person in question. They can quickly access the settings and menu commands they need, speeding up their job.
A customized CRM solution is tailored to the needs of a specific industry. Each company has its own way of doing things. They have unique CRM data storage needs and produce certain kinds of business reporting.
A typical CRM application may or may not be compatible with a company's operating processes and regulations. A custom CRM solution is required to make the most out of your investment.
Why Do You Need a Customized CRM Application?
It is not unusual to be puzzled as to why a typical CRM application fails to provide the desired results. Every company needs a CRM to manage its data. However, when you buy a CRM application, you do not think about a database.
What are the advantages of a CRM application for your company? The standard CRM software does not meet the needs of every company. A custom CRM application is required to guarantee that the CRM meets your company's needs.
You will need a customized application that can store data about your company and produce helpful tailored reports. At the entity level, CRM customization begins. Each company has its collection of entities that it revolves around. The entities are used to create data tables. Reports are generated depending on the data types stored in your CRM.
A CRM application's main feature is its ability to create complex data reports. The CRM offers robust reporting capabilities that may be greatly beneficial to a company.
Benefits of Custom CRM Software
Here are some benefits of CRM customization for your company if you are still storing customer data on a typical CRM app or paper and spreadsheets.
1.   Less Expensive Than Standard CRM
CRM solutions are often delivered as SaaS solutions with a monthly or annual subscription, and the price is determined by the number of users in your company. The most major drawback of ready-made CRM systems is that they are created for everyone.
As a result, even if you do not need three of the ten features available, you must pay for all ten. Keeping in mind that as a business develops, so does its CRM, and paying for more features on a big scale is a waste of money.
You can choose which features you wish to include in a custom CRM software and pay for just those. As a result, you may eliminate non-functional elements and reduce your operating costs.
2.   Less Onboard Time
When you use a pre-built CRM, there is a good possibility it will not work with your company's current processes. As a result, you will need to hire a qualified trainer to educate your current employees and prospective hires on using the CRM.
This is a time-consuming and expensive procedure. Custom CRM software solutions are created per a company's current processes, making it simple for employees to learn and adapt to the system. As a result, a customized solution may play a critical role in reducing the onboarding time.
3.   Seamless Integration
Since extended APIs and capabilities are more costly, you will have to pay a significant fee for an off-the-shelf CRM system to get important advantages. Furthermore, integrating a ready-made CRM is more difficult. A business will need to hire an expert to integrate required apps like Microsoft Outlook, Gmail, accounting software, etc.
By enabling developers to utilize the API-first method, a customized CRM software solution makes the integration process less costly, simpler, and more reliable.
Custom integrations are critical for a business since they turn a CRM into a custom hub that can be used by various departments, including HR, project management, supply chain, manufacturing, and so on, assisting a company's digital transformation.
4.   Simplified Scaling Process
Scalability is a desirable feature for every company. Automation and information sharing are critical for a business's seamless scaling; nevertheless, a CRM that can extend its capabilities to additional departments is required. Ready-made CRM, on the other hand, may face the following scalability problems:
You will have to purchase a new plan, which will be more costly but may not have all the services you need.
You will have to install additional add-ons, which will cost you a lot of money.
In addition, your extension must be integrated with the CRM solution.
This is where a customized CRM software solution may help. The advantages of a customized CRM system versus an off-shore CRM are as follows:
Custom CRM allow you to add as many users as you like at no additional cost.
Enhanced features, such as database management and augmented analytics can be customized.
You may change the custom CRM to fit your company's needs.
5.   Enhanced Automation
Most off-shore CRMs lack automation, which is a key feature that every business needs. Without automation, sales managers will have to spend a significant amount of time inputting and arranging data. These time-consuming and inefficient tasks may demotivate the team. Among the tasks that may and should be automated are:
Entering customer data into the database.
Uploading call recordings.
Compiling information.
CRMs that enable automation often come with a long list of features, many of which you will not use. A customized CRM software solution allows you to automate just the tasks that are important to your company, saving you money and removing unnecessary features.
6.   Seamless Data Integration
Your current CRM may be limited in scalability, support for a small number of applications, configuration options, and maintenance expenses. As a result, you may want to consider switching to a different CRM. However, you might encounter several technical difficulties throughout the procedure, including:
Migrating data from an old system to a new one without losing data
Identifying hardware that is compatible with your CRM
Understand the legacy system
As a result, if you want to migrate to a ready-made CRM, you will have to hire a professional to extract and standardize the necessary data, which is a costly option.
A customized CRM software application, on the other hand, may help you in overcoming these difficulties in the following ways.
Custom CRM is made to allow for a smooth transition.
Custom CRM can be set up with a new CRM that uses a format that is compatible with it.
You can avoid data loss by using migration scripts for customized CRM software.
Sunvera Software develops next-level software applications from start-to-finish. Schedule a free 30-minute call with us to discuss your business, or you can give us a call at (949) 284-6300.