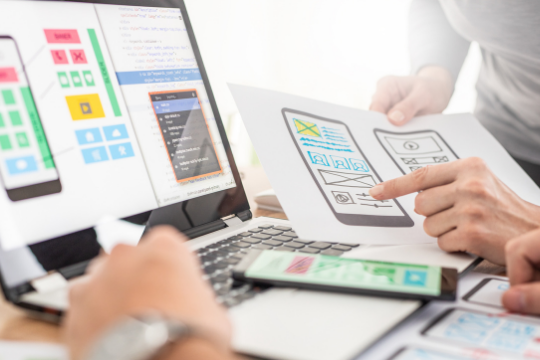 Need an app for your business, but don't have the expertise to go about making it? Then you are at the right place. With so many mobile apps being launched every day, there's a plethora of options available to choose from. You can easily find lots of developers offering their services via various websites and marketplaces, who will be more than happy to build what you're looking for.
So, then how do you go about finding the right mobile app developer that suits your needs? Here are some websites that will help you find the best out there.
How to Find a Mobile App Developer – Top Sites to Visit
The first thing you need to do when looking to get an app developed is find a developer. Here are some popular sites people visit to find good mobile app developers.
1) AngelList
AngelList is a website used by many entrepreneurs to hire mobile app developers. It is a great place to find developers, especially if you are looking for someone who is very experienced within the mobile field.
AngelList's unique feature of allowing founders to rate their experience with an individual developer will also prove beneficial for hiring purposes.
2) Authentic Jobs
If you're looking for some serious talent in the mobile app development sphere, Authentic Jobs can be a great place to find someone.
The main benefit of this website is that it only allows companies that are in need of developers to post their requirements. This means that you will not have to wade through irrelevant job postings when browsing this site.
3) Dribbble
Dribbble is a great website for finding and hiring mobile app designers.
This site has many talented developers who showcase their work through this platform, while also offering to provide services.
4) Freelancer Sites
If you're on a budget or simply don't like dealing with middlemen, freelancer sites such as Craigslist , ODesk and Elance are a great place to find mobile app developers. You can hire specific individuals or teams that will work on your project from the comfort of their home, studio, or office.
Briefly browsing through these websites should help you come across at least a few credible developers from whom you can hire a trustworthy person. Freelance platforms have seen an extensive growth over the past few years, so you should have no trouble finding someone.
Whatever line of work you are in, there are always certain people who have much more experience in the field than others. Working with these established players is thus a worthwhile way of making sure that your project reaches its desired success level. The mobile app industry is no different. Thus it becomes important to find reliable mobile app developers in order to be successful within this lucrative industry.
Alternate Ways to Find Developers
If you are on the lookout for mobile app developers, or any other type of developer that can help with your project, here are some more ways in which you can find them.
1) Direct Outreach to Developers
Hiring directly from the available talent pool is one way of finding a mobile app developer. You could do this through cold-calling or emailing many freelancers to see if they would be interested in working on your project.
2) Work with a Recruiter
Recruiters can help you find developers who suit your requirements. Working with one of these professionals, you should not only save time and effort, but also get better results than when hiring directly from the talent pool.
3) Look at Developer Portfolios
Many developers maintain their own portfolios that allow potential clients to directly see the type of work they do. Looking through these portfolios is a great way to find good mobile app developers working in your area of interest.
4) Access Developer Networks & Communities
There are several developer networks and communities designed to connect developers with clients. These groups allow for collaboration on projects and thus can be very beneficial in finding good mobile app developers.
5) Search Developer Job Sites
Using search engines to find developer job sites is another way of finding great talent according to your specific demands. Visit some of the leading websites that list jobs relevant to your needs and see if they might have some suitable candidates.
6) Post Your Own Job Listings
Posting your own job listings is another way of connecting with promising developers. You could create a listing on various job sites or directly post to developer networks and communities yourself. Doing this allows you to attract the type of talent that will help you achieve the results you are looking for.
Advantages of Outsourcing Mobile App Development
Hiring a mobile app developer might be a good option for some, while others may prefer to outsource the whole process in order to save time and resources. Deciding on whether you should hire or outsource is therefore important.
1) Time Savings
If done effectively, outsourcing allows you to quickly get your project off of the ground. You can focus on other aspects of your business while the mobile app developers get down to work.
2) Cost Savings
Hiring mobile app developers is also an effective way of cutting costs, especially if you need a large number of individuals for your project. Because there are still many talented freelancers available at reasonable rates, you should be able to find suitable people without having to break the bank.
3) Access to Expertise
Outsourcing can also give you access to a much wider talent pool, allowing you to hire great mobile app developers that you might not have been able to find otherwise. In addition, working with established freelancers means that your project will be in good hands from start to finish.
4) Flexibility and Scalability
Hiring and managing employees on a full-time basis can be difficult and time-consuming, especially if your business is still in an early stage. Outsourcing allows you to easily scale the number of outsourced resources according to demand for your project. This makes it easy to quickly get your project off of the ground, while also being able to meet the needs of your business.
5) Access to Different Skills & Experiences
Because there are so many talented freelancers out there, working with established talents allows you access to a wider range of skills and experiences that might not have been possible when hiring directly from your talent pool. If you are looking for good mobile app developers that exceed your expectations, then outsourcing to an experienced freelance team helps you achieve exactly this.
Finding good mobile app developers is very important for any business that plans to have an app. The right individuals are able to turn your idea into a reality, thus helping you achieve your goals faster and easier. In addition, finding good mobile app developers ensures that you have a reliable team at your disposal for future projects.
Hiring or outsourcing can both be effective methods of finding good mobile app developers, with the ultimate decision resting on what you hope to achieve and how soon you want results. However, taking advantage of all of these methods allows you access to a much wider talent pool, which in turn gives you access to the best people for your project.
Sunvera Software develops next-level software applications from start-to-finish. We are a premier software and mobile app development agency specializing in healthcare mobile app development, custom mobile app development, telehealth software, sales dashboards, custom mobile app development services, retail software development, supply-chain software, ecommerce, shopify, web design, iBeacon apps, security solutions and unified access software.
We are proud partners with Amazon AWS, Microsoft Azure and Google Cloud.
Schedule a free 30-minute call with us to discuss your business, or you can give us a call at (949) 284-6300.