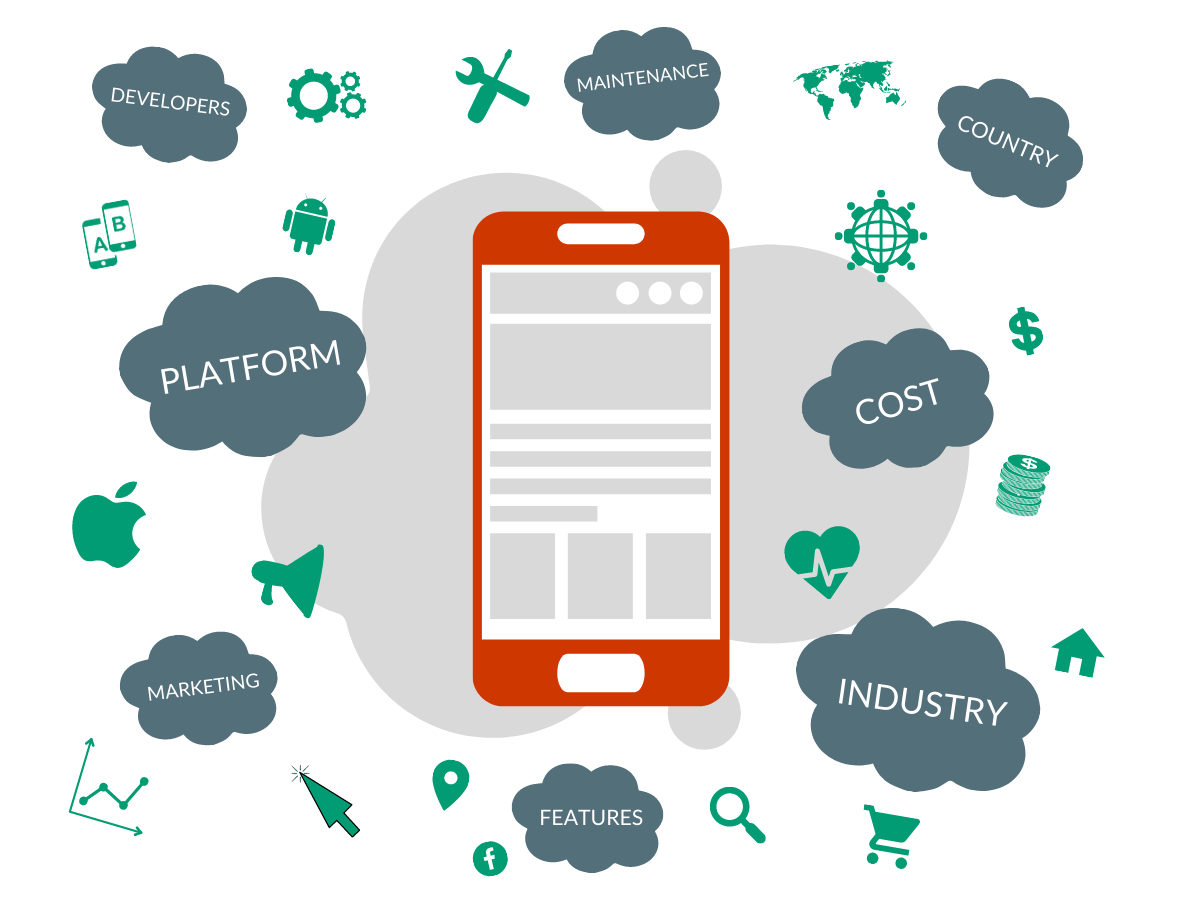 Mobile phones have become a necessity in our lives, and a phone without apps is a useless screen. Around 90% of the time people spend on their phones is on an app. With more than 2.9 million apps available for downloads, it is clear that apps are an effective way to engage the audience and build brand credibility. This comprehensive guide will lay down the roadmap of app-building costs and what route to take depending on your needs.
App Development Costs
When it comes to app development cost, there is no specific answer to how much it can be as the price depends on various factors. The average cost range of developing a mobile application is anywhere between $20,000 and $80,000.
When you set out to develop an app, you can take several routes to ensure that your project does not go over budget, and you can also opt for freelancers instead of going for development companies.
One of the most widespread beliefs in app development is that the more money you cough up, the better the app will be. This is not true because you could opt to work with a freelancer who would charge you significantly lower than what a company would. You could also talk to an app development company and look for areas that are not needed in your app at the moment and remove them, thus driving the cost down.
The cost of app development depends on where the developer is situated. For example, North America and Australia are some of the most expensive app development regions at $150-$200/hr and $168-$250 for iOS. In contrast, the most pocket-friendly options would be India, Indonesia, and Pakistan, each ranging between $11 to $70, respectively.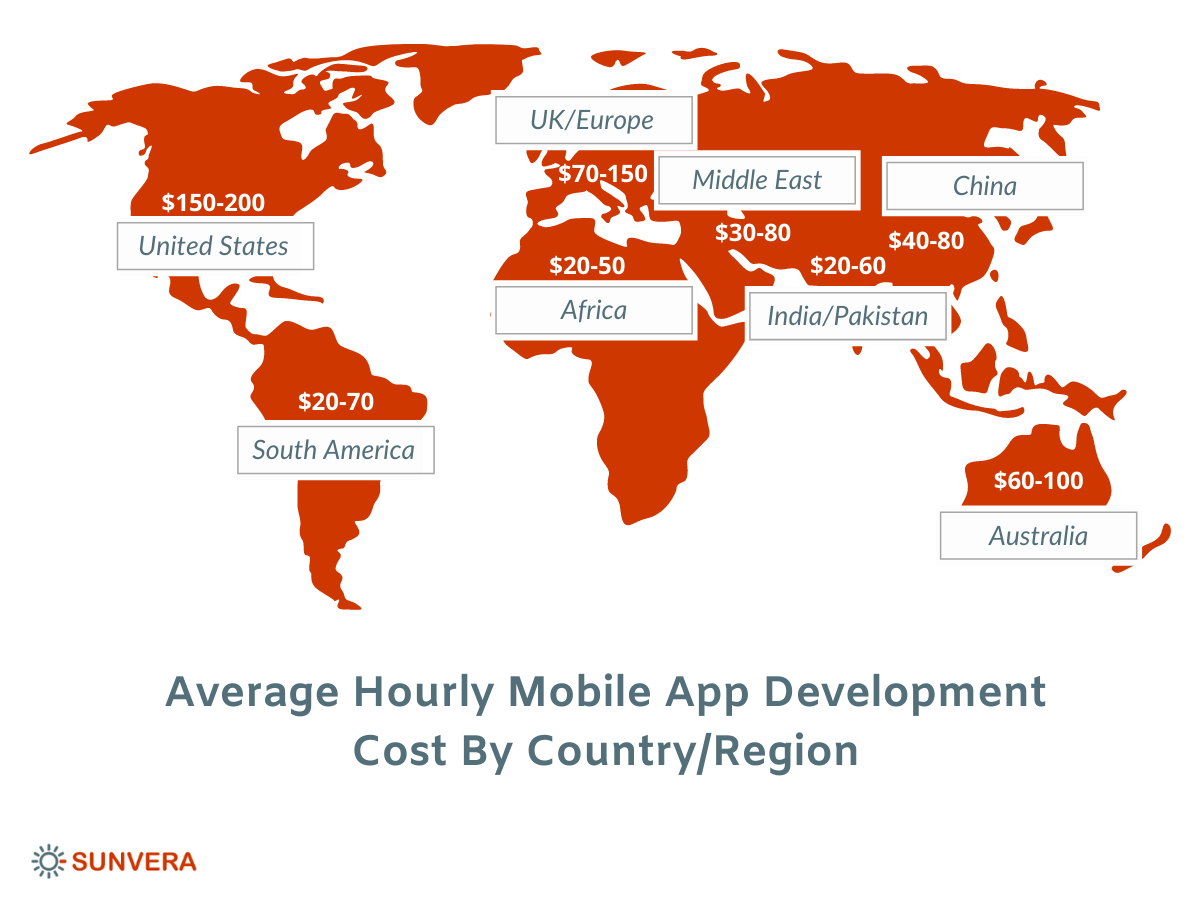 Average Hourly Mobile App Development Cost by Country
It's Not Just About The Dollar Amount
If you have previously built an app, you know that it is just as important to capture the estimated number of hours that it will take to build your mobile app. The formula for calculating the price of app development is price/hr. X number of hours = total cost. With that being said, let's use that formula to calculate the average cost of building each major type of app.
Types of Apps and Their Average Total Costs
A major point to take into account is the type of app you want to build. Yes, it's true that different types of apps have different cost levels. According to Statista, here are the most popular app store categories as of August 2020, and their percentage share of active apps in the app stores.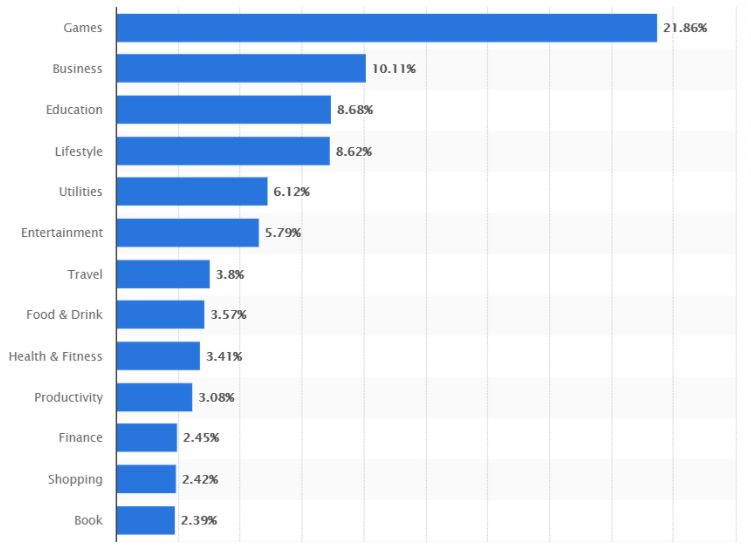 Most Popular App Store Categories, Statista
Here is a rundown of the top categories of apps and the average costs that they incur.
The Gaming App
Although it is one of the most popular categories in the app store, gaming apps generally require high-quality graphics and endless features. Games can be as simple as Solitaire or as complex as Fortnite, and with the rise of Augmented Reality (AR) and Virtual Reality (VR), games are about to become more complex in features. Depending on the kind of gaming app you want to build, it will cost you anywhere between $50,000-$1,000,000 to build one.
The Business App
A personalized app for your business can cost you anywhere between $50,000-$200,000. Business apps should start by offering these five basic features for your audience: user-friendliness, social integration, feedback and contact, offline features, and regular updates.
The Education App
How simple or complex do you want your education app to be? If you are creating an education app as a simple resource for students or potential learners to refer to, the price could be as low as $15,000. For more engaging educational games and advanced features such as interacting with tutors, you can expect the price to bump up to $80,000, or even more.
The Lifestyle App
Everybody is looking for different lifestyle apps that can help them track their everyday activities, such as their diet, what to wear, their workout routine etc. The good thing about lifestyle apps is that everyone can use them, so there is a wide audience. Building a feature-rich lifestyle app costs $15,000-$50,000 on average.
The Utilities App
Want to build a powerful voice translation app or a reminder app? Similar to lifestyle apps, utility apps are also in high-demand all the time. And the good news is that you can build one in five figures! Typical costs range from $25,000-$80,000.
App Trends on the Rise
AR/VR
It took one game to make this mobile app trend go viral and now, the market is expected to reach $94.4 billion by 2023. Augmented Reality and Virtual Reality apps are now spread across nearly every vertical and will soon take over the majority of apps in the app stores.
AI/ML
With increasing worldwide spending on emerging technologies, Artificial Intelligence (AI) and Machine Learning (ML) are now dominating apps. We will come to a point where many will not find an app desirable if it does not have some sort of AI/ML feature to make our lives simpler.
On-Demand Services
We have clearly seen how successful apps like Uber and DoorDash have been, and people now want on-demand service apps for just about everything. The interesting part is that there will be a lot of competition in this field as businesses build 'the next Uber' with more advanced features.
eCommerce
The pandemic has been testing all sorts of waters for sure, and the tides have actually been very eye-opening for retailers. eCommerce has always been an attractive option to reach more shoppers, but many businesses thought it would never overpower the personal, in-store connection that shoppers get when they walk into their store. However, retailers are now finding that eCommerce is fast, easy, convenient, and there are many ways to personalize the customer experience with AR/VR, chatbots, automatic suggestions etc.
Types of Apps From a Technological Standpoint
Native Apps
These apps are specifically built for one platform (ex. specific to only iOS or only Android). Native apps are the most popular choice out of the three options (native, web, and hybrid) due to their fast speed. However, they are the most expensive as well. The reason being that you have to build 2-3 native apps for it to be optimized for each type of device and/or platform.
Web Apps
Web apps are basically 'mobile websites', however, they may showcase a different look and feel from the same company's desktop website. The good thing about web apps is that they do not need to be downloaded to be used as they can be accessed via data or the Internet. They also do not need to be built for multiple platforms so they tend to be cheaper than native apps.
Hybrid Apps
If you mix native and web apps together, you get hybrid apps. Hybrid apps are similar to native apps in the sense that you have to download them from the app store. However, similar to web apps, hybrid apps are developed using programming languages like HTML, CSS, and Javascript, and are cheaper than native apps.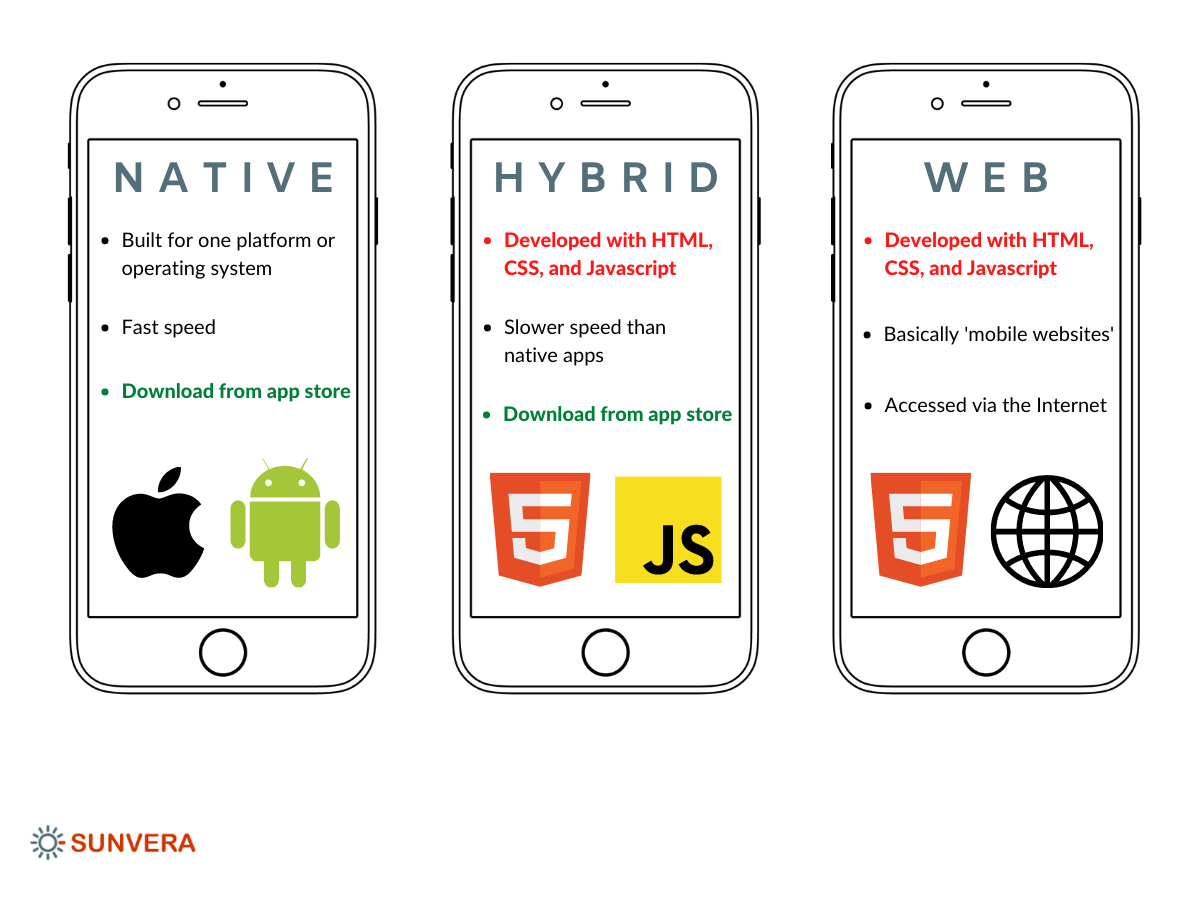 Hybrid, Web, and Native Apps
iOS Apps
iOS apps are built with either Objective-C or Swift programming languages.
Android Apps
Android apps are primarily built with Java and Kotlin.
What The Surveys Tell Us
GoodFirms broke down the average cost of app development into three categories: apps with a simple interface (least functionality), medium complexity, and feature-rich apps. The most simple apps cost anywhere between $40,000 to $60,000. Apps with a little more complexity can cost between $61,000 to $69,000, and the most complex apps range from anywhere between $70,000 to $100,000.
What all determines the cost of building an app
The total cost of building your app depends on MANY factors. Lets go over some of these.
Type of App
We will keep this one brief, since we mostly covered this topic, but the type of app you are aiming to build has a HUGE effect on how much you will be paying.
Complexity
How complex do you want your app to be? Is it a simple 2-3 screen app or a feature-rich application?
Design
If you are trying to build a simple utilities app for example, design won't be a major cost for you. However, if you are trying to build a gaming app with powerful graphics, design will take up a large chunk of your total cost.
Vendor
Every software development firm has their own pricing range. It is good to get an estimate from at least 5-6 different firms before you make a deal. It is also important to keep in mind that there are other options such as freelance app developers, or you could even build your own app if you have the expertise to do so. All three of these options have different price levels.
Back-End Development
Almost all of the costs we talked about so far have to do with front-end app development, but you also have to include the costs for back-end development. You may ask "What is the difference between front-end and back-end?" Front-end is basically the app which the consumers will use, and all of its associated features. The back-end portion of the app is hosted on a remote server. Anything that happens in the back-end is not seen on the front-end app, and the back-end is used to carry out remote tasks that you don't want your users to see, such as users' vulnerable info or any other info stored in the app. Think of it like a restaurant. All the work happens in the kitchen, and only the final dish is seen by the customers. What happens in the kitchen affects the dish and the presentation of the dish.
Number of Platforms & Devices Supported
As for the number of platforms and devices you want your app to support, it is CRUCIAL to keep in mind that cross-platform and cross-device apps, also known as hybrid apps, are a lot cheaper as you don't have to pay for additional costs in tailoring your app to each and every platform or device. We will go over this in more detail later in the guide.
Testing
Every app needs to be tested to make sure it runs properly. Testing costs anywhere from $5,000-$20,000 on average and again, it all comes down to your vendor and their average pricing.
Maintenance
App costs are not finished post-development. You have to take maintenance costs into account, which need to be paid every year. Maintenance costs are generally around 15-20% of the total development costs. Depending on the situation of your app, you will need different types of maintenance services and a certain amount of them as well.
Local Development or Outsource, which route to take?
There are pros and cons of both of them, but if you know what your app needs and what constraints you are working under, making this choice becomes more effortless.
If you opt to go for the outsourced route, then know that you will have access to a larger talent pool to choose from; you will get lower rates and much more flexibility. In addition to this, there are some cons with it as well such as communication problems which can be due to several reasons. One reason could be different time zones and it may get difficult at times to coordinate appropriately. Lastly, there is a lack of personal involvement, or as the saying goes, things may "get lost in translation."
But, if you decide to go with local development, you get access to the developers, and you can meet them whenever you want as you will not be limited due to location. In addition to this, you can meet the team to communicate your ideas much more effectively. However, it can go against you if you are working on a tight budget because there may be little talent available, which may be expensive for you.
The Stages of App Development
Discovery Stage
The discovery stage is where all of the brainstorming happens. Ideas are conceptualized and goals as well as visions are communicated. Costs are calculated after taking everything into account.
Design Stage
The foundation for the UX/UI design of the app is laid out on this stage. This is a crucial stage for many apps, especially gaming and social media apps. The price range is quite broad as it depends on how complex or simple you want the design to be.
Development Stage
Your app is brought to life by the developer(s) and all features discussed in the Discovery Stage are implemented here.
Testing and Deployment Stage
An app is tested and deployed after the development stage to ensure that it runs smoothly on all platforms with no issues.
Maintenance
Wait! Just because your newly-developed app has passed the test and has been deployed does not mean it's over. You have to remember the maintenance stage, which happens every year. Be ready to pay the fees to maintain your app and make sure it is updated every year.
How much time does it take to develop an app?
How long it takes to develop an app depends on a number of factors. How many platforms are you gunning for? What features are you trying to add to the app? The rough estimate of how much time is needed for an app to be fully developed is as follows:
A basic mobile app takes 400-700 hours
Apps that have advanced features can take up to 700-1000 hours
Highly complex apps that have technologies such as AI, ML, or VR development can take up to 1200 to 2000 hours.
It is worth keeping in mind that these times are just estimates, and in reality, the times can go up or down depending on how swiftly the development teams are working on your app.
A Breakdown of the Basic Features of Your App
Search Option
Help your app's users navigate to where they want to quickly with a search feature.
Social Integration
On the topic of convenience, your app should be able to seamlessly connect with social platforms to ease the sign up process. An added benefit of social integration is that users can share any particular post or other info in the app to their social channels with the tap of a button, which gives your app more exposure.
Push Notifications
Almost every app needs a notifications feature as they are helpful for many, and it is the best way to remind users of something. Push notifications also increase app engagement as people are likely to revisit it after receiving one.
Customization/Personalization
When you collect user data after getting their permission, you can create a personalized user experience to satisfy their needs better. For example, if you have an eCommerce app, you can showcase similar products to the ones that they viewed previously, and it is likely to increase sales. If your app is very design-oriented, allowing your users to customize their dashboard or overall layout can make them really happy, and they will want to use your app more.
Offline Use
It is very convenient when users are able to use apps offline in places where the Internet may not be available, so this is a great option to consider.
Security
Nobody wants to use an app that will not protect their privacy and possible sensitive data. App security is not optional, and a good app will invest a good chunk of their cash into building secure features to make their users feel comfortable. It is also a good idea to have Single Sign-On (SSO) and Multi-Factor Authentication (MFA) options.
Feedback
Allow your users to give you feedback! This is the only way you will know what needs to be improved upon to provide a better user experience. Even a quick star rating option is better than nothing.
Add-On Features
These are features that will obviously bump up the price of building your mobile app should they be included, however, will also improve the quality of your app. Keep in mind that not all of these features will be required for your specific app, but you can decide which of these you choose to incorporate based on the function of your app.
Augmented Reality / Virtual Reality Integration
AR and VR mobile trends are on a rise, and will be more prominent in the coming apps. Although they are not required to make an award-winning app, it certainly scales your app to meet the growing demands of modern-day smartphone users.
Geolocation
Many apps need to be able to access a user's location for them to use the app.
Ads Display
If your app will earn revenue through ads, you have to have this feature included.
Payments
If you are building an eCommerce app or any other app that requires transactions to be made through the app, you need to have a secure payment system enabled.
Chat
The chat feature is common in many social media applications, and is also a staple in telehealth applications where the patient may need to stay in touch with the doctor through the easiest contact method: text. These are just a few examples of many where a chat feature will be needed. Throw in a chatbot as well and this becomes one of the most valuable add-on features from our list.
Video Calls
Video (and audio) calls are a pricey feature to include, but the ROI is great if you are building a valuable app.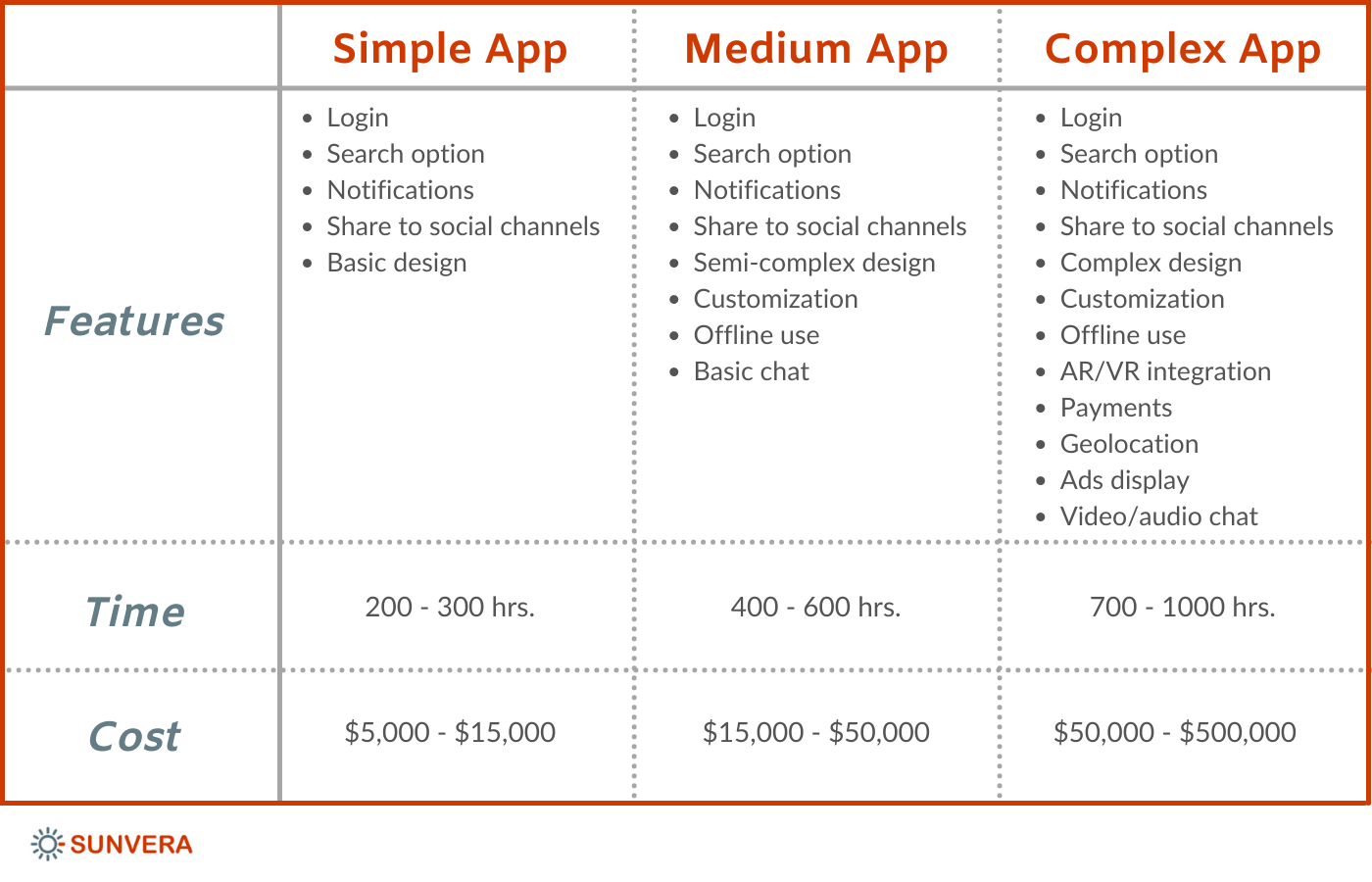 Simple, Medium, and Complex Apps Features, Time, Cost etc.
Cross Platform App Functionality
A term you may hear quite often in mobile app development is cross-platform app functionality. Although this term may be overshadowed by its more popular opponent native apps, cross-platform apps or hybrid apps are underrated for a number of reasons.
First let us start off by saying that native apps are the go-to option for many simply because they are more reliable, and since they are specifically made for one operating system, all of the components of the native app are made to fit that one platform which results in faster loading speed.
However, if you choose to go with the native option, you will have to pay up for creating the same app for other platforms, which ends up being very pricey for some. But not to worry, if you cannot afford to pay double or triple the amount you will already be paying for your app, cross-platform app development is here to save the day.
Cross-platform apps have their own benefits including less development time, more cost-effective, more exposure etc. On the topic of speed, this is actually debateable. Some say there is not a significant difference between the speeds of native and cross-platform apps, but others get very annoyed by cross-platform apps.
This means you have three options: (a) develop one native app which has very fast speed, but sacrifice a good number of your audience reach (b) develop a cross-platform app that allows your app to be used by various devices and platforms, therefore giving your app more exposure, but sacrifice fast speed (c) develop multiple native apps, reaching a greater amount of people and providing them with a fast and high quality app, but sacrifice cost.
How much does app maintenance cost?
When users download an app, they expect regular updates to improve the app and ensure that the app is compatible with all the latest versions of the operating systems. In addition to this, there are often bugs in the app that require sorting out to ensure that the user experience is up and up.
When it comes to calculating how much it will cost to maintain your app, then a good rule of thumb would be to take the 20% of your app's original development cost, and that will be the cost of maintenance.
When you maintain an app, you are not just paying for the cosmetic changes; you are also paying for the server costs, development costs, content costs, and other such features that ensure that your app is enjoyable in the longer run. Longevity is something that you need to go after because once you rack up those users, you want them to stay, and to do that, you need to give them constant updates.
App Marketing
You built an amazing app with your hard earned money, now what's next? How is your app going to earn revenue? Marketing your app should be a task on your to-do list if you want your app to be successful. You should set aside a budget for app marketing before you even get your app developed. But how do you determine the cost of marketing your app? Well, it depends on which and how many avenues you decide to use to your advantage.
Here are some common ways people market their apps, and the average cost to use these methods.
App Store Optimization
If your app is not optimized to rank high in the app stores, you will lose A LOT of potential traffic. That is why we advise you to focus on App Store Optimization first. Here are some tips to optimize your app for the iOS App Store and the Android App Store. You can also use an App Store Optimization (ASO) tool which will cost you anywhere from $30-$1,000 dollars/mo.
PR Outreach
You want your app to show up in various publications with maximum exposure to your intended audience. Get ready to do a press release and reach out to several PR agencies. The average hourly cost for a PR agency can be anywhere between $100-$300.
Influencer Marketing
Use your influencers! Let them try out your app and they can introduce it to a whole network of potential users. Remember to go for influencers that have followers/subscribers of your target audience. The average cost for this can be around $100-$300 per influencer.
Social Media
First off, if you don't create social media pages for your apps, what are you doing? Social media is one of the best ways to bring attention to your app. Along with company pages, you can also choose to do paid ads, which can cost as little as $20 to $1000/mo., depending on how long you want the ads to run and which platforms you choose.
Paid Ads
Lastly, you can choose to go the paid ads route as well with Google and Bing Ads. Similar to social media, you set the budget and the time you want the ads to run, so again, the price range is very broad. Paid ads can also cost you anywhere from $20-$1000/mo.
Keep in mind that your ROI will be a lot higher if you build a good app and market it 10x better.
Key Takeaways (TL;DR) 
Since we covered a boatload of vital info in this article, here is a quick summary of all the major points that we went over:
General
The average cost of developing an app is between $20,000 and $80,000
Every region of the world has their own price ranging with app development. You can pay as much as $150-$250/hr in the US and as low as $11-$70 in India and Pakistan. However, there are disadvantages to offshore development such as time zones, misinterpretation due to different cultures etc.
The formula to calculate app development cost is price/hr. X number of hours = total development cost
Types of Apps
How much you need to pay to develop an app depends on what type of app you want to bring to life. A gaming app may go up to a million bucks while a lifestyle app typically tops off at $50,000.
Some current app trends which are likely to grow are apps that involve Artificial Intelligence (AI), Augmented Reality (AR), Virtual Reality (VR), on-demand services etc.
Technologically speaking, there are three major types of apps: hybrid apps, web apps, and native apps. Native apps are the most popular since they are known for being fast in speed. However, a more cost-effective version is hybrid apps, which don't require additional development hours to fit different platforms/devices. Web apps are accessed via the Internet and use programming languages such as HTML, CSS, and Javascript.
Determinant Factors
Type of app, from both a vertical and technological standpoint
Complexity
Design
Local or Outsourced
Vendor
Back-End Development
Number of platforms / devices
Testing
Maintenance
Complexity of Features
Level of App Marketing
Conclusion
We highly encourage you to use this comprehensive guide as one of your top app development cost resources when building your next-generation mobile app. Mobile app development is a complex process, but if strategically planned and carried out right, you are well on your way to becoming the next innovative entrepreneur with a powerful mobile application! Whether you want to build the next trend-setter app such as Uber, TikTok, or Instagram, or if you are looking to build a mobile app specifically for your business, whatever vertical it may be in, the most important part is choosing the right developer(s) who can handle your project.
Sunvera can build the perfect mobile app for your business while helping you reduce costs and improve operational efficiency. Contact us for a FREE 2-hour consultation.