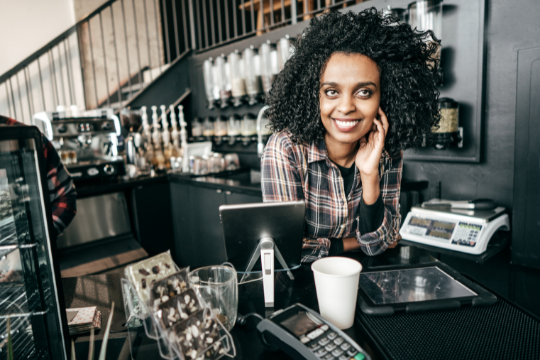 While the right retail business plan and strong execution can set a business up for growth, providing customers with an exceptional experience is what turns loyal shoppers into brand evangelists. The best retailers understand that in order to be successful, they need to marry great strategy and execution with an exceptional retail software platform. This can help speed up processes, improve efficiencies and ultimately lead to more sales.
It can be tough for a company to do everything in-house, especially when it comes down to technology. But at the same time, many retailers will turn to expensive consultants or focus on other priorities while putting off investing in retail software that can increase sales and drive loyalty.
This is where custom software development solutions come in.
How the Retail Space Has Changed in the Past Few Years
Retail has changed a lot in the past few years. And if retailers want to stay competitive, they need to change as well. That's why retail software solutions have become so important for retailers who want to increase sales and drive loyalty from customers.
Take a quick look at how retail has changed in the last few years:
Brick-and-mortar sales are growing year over year, even though people are spending more time online
Customers expect retailers to have an intuitive mobile experience through any channel
Consumers want a personalized experience with a "like-minded" brand
Data is critical for retailers to understand their customers and dramatically improve the customer experience, which will increase sales Ultimately, these changes are driving retailers to rethink their strategies to keep up with the changing retail landscape. This means that they need to arm themselves with better technology that can help them increase sales and retain customers.
Benefits of Custom Retail Software Solutions
The right retail software can help retailers stay competitive and increase sales. Here are a few benefits:
Streamlined Processes
Retailers don't have time to waste, so any technology that can automate certain tasks will be invaluable. This kind of custom software development solution can lead to streamlined processes, which means increased efficiency and ultimately more revenue.
Mobile Commerce
Retailers who have a great mobile experience will see returns in the long-term. It's no longer an option for retailers to be lost behind the times and not invest in their mobile commerce efforts. There are tools that can help retailers manage and improve the customer experience on any device, but it's important to find solutions that will give retailers the greatest return on their investment.
Increased Sales and Loyalty
Custom retail software solutions can help retailers increase sales by helping them better manage items, analyze data to understand consumers and engage customers in a more personalized way. This is why retailers need custom solutions that will be tailored to fit their specific needs and goals.
Retailers should look for solutions that can help them increase sales by investing in custom software to improve the customer experience. It's important to choose a trusted partner who will work hand-in-hand with retailers to deliver custom solutions that will increase sales.
Types of Retail Software Solutions
There are many different kinds of retail software development solutions on the market. Not all fit every situation, so it's important for retailers to find a trusted partner who can provide a solution that fits their needs and goals.
Here are a few options:
Retail Management Systems
These systems have evolved quite a bit over the past decade or so. Retail management systems are designed to help retailers manage inventory, track sales and analyze data to understand customer buying habits. They can also be used to integrate e-commerce platforms with other systems in the corporate office. This type of software solution can help retailers increase sales by better understanding their customers and offering them personalized experiences. It's also important for these systems to offer retailers the ability to integrate with third-party services such as accounting or payroll tools, so that there are fewer manual workarounds and everything is working together seamlessly.
CRM (Customer Relationship Management)
CRM software is used by retailers to manage their relationships with customers. It includes tools that can help retailers increase sales by capturing, managing and analyzing customer data. These solutions have been extremely helpful for brands that want to engage with customers on a more personal level. They make it possible for retailers to advertise to existing customers in a more customized way, which means a better experience and increased sales.
POS Systems
If you're looking for a retail software development solution that can help increase sales, then a point-of-sale system might be the right fit. POS systems are hardware tools that retailers use to manage their physical stores. They usually include inventory management, transaction processing and order fulfillment capabilities—all of which can help increase retail revenue.
Developing a Custom Retail Software Solution – Where to Start?
The best place to start is with a partner who knows the retail space and can help retailers determine their specific needs before developing a custom retail software solution. They should take the time to ask questions, understand problems and gain an understanding of what will make your business more efficient and effective. Once you find a trusted partner, it's important to build a strong relationship and ensure they are delivering on their promises.
Sunvera Software develops next-level software applications from start-to-finish. We are a premier software and mobile app development agency specializing in healthcare mobile app development, custom mobile app development company, telehealth software, sales dashboards, custom mobile app development services, retail software development, supply-chain software, ecommerce, shopify, web design, iBeacon apps, security solutions and unified access software.
We are proud partners with Amazon AWS, Microsoft Azure and Google Cloud.
Schedule a free 30-minute call with us to discuss your business, or you can give us a call at (949) 284-6300.