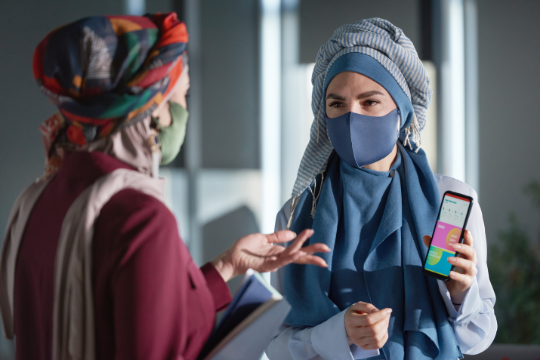 With technology becoming more and more prevalent in society, it's no surprise that mobile safety apps are growing in popularity. These apps can be used in a variety of settings, from universities and workplaces to large events. They offer several features that can help keep people safe, such as GPS tracking, emergency notifications, and walk home services.
Types of Apps Made For Public Safety
Several different types of mobile app solutions for public safety can be applied for various situations.
Personal Safety App
The most common type is the personal safety app. These apps allow users to quickly and easily contact emergency services if they need help. Some of the most popular personal safety apps include bSafe, React Mobile, and Watch Over Me.
Public Safety App
Another type is the public safety app, which allows users to report crimes or emergencies that are happening around them. Users can also use these apps to receive alerts about hazards or dangers in their area. Some popular public safety apps include Companion, Citizen, and Watch Over Me.
Emergency Management Apps
These are similar to public safety apps in that they can be used to report emergencies. However, emergency management apps are designed for local public safety agencies and organizations. Some of the most popular ones include Rave Guardian and Companion.
University Safety Apps
Along with personal safety apps, universities are turning to other types of mobile safety apps for helping their students stay safe. Some of the most popular apps include Campus Guardian, Companion, and University Guardian.
Most university safety apps are developed by private companies or organizations that specialize in mobile safety technology. The majority of these apps allow users to receive alerts about crimes happening on campus and to track their bus routes with GPS tracking.
Workplace Safety Apps
Workplace safety apps are designed to help employers keep their employees safe while they're at work.
Workplace safety apps typically offer several features, such as GPS tracking and mobile notifications. These features allow employers to keep track of their employees' locations and receive alerts if they're in danger.
Workplace safety apps are usually developed by companies that specialize in safety technology, such as FallTech. React Mobile is another company that specializes in workplace safety.
Event Safety Apps
Events, such as concerts and festivals, can be dangerous places if you don't take the proper precautions. That's why many events are now using mobile safety apps to keep attendees safe.
Mobile safety apps are perfect for large events, especially when they're hosted outdoors or in remote locations where cell phone service is unreliable. They offer several features that can help keep attendees safe and informed, such as:
-GPS safety tracking
-Emergency notifications and alerts
-Social SOS for sharing your location with friends and family members in case you get lost or separated
-SOS chat to communicate with emergency services real-time
-Walk home services for directing users back to their vehicles or hotels when leaving the event.
Are Mobile Safety Apps Useful?
Mobile safety apps are useful tools for keeping yourself, students, employees, and others safe. The variety of features offered by different types of mobile safety apps gives users the power to protect themselves in many different situations. Whether you're at school, work, or an event, there's a mobile safety app that can help you stay safe.
Sunvera Software develops next-level software applications from start-to-finish. We are a premier software and mobile app development agency specializing in healthcare mobile app development, custom mobile app development, telehealth software, sales dashboards, custom mobile app development services, retail software development, supply-chain software, ecommerce, shopify, web design, iBeacon apps, security solutions and unified access software.
We are proud partners with Amazon AWS, Microsoft Azure and Google Cloud.
Schedule a free 30-minute call with us to discuss your business, or you can give us a call at (949) 284-6300.