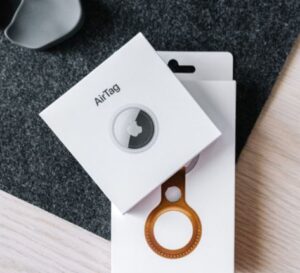 Apple has recently introduced one of their newest products, Apple AirTag. The AirTag is a small metal disc that can be attached to items to ensure you don't lose them. The AirTag works in unison with your iPhones Bluetooth and Find My app. In addition, the introduction of Ultra Wide Band technology in newer iPhones can precisely track your AirTag, ensuring you won't lose whatever item you have tagged. 
How it works is that your Apple AirTag will send a secure Bluetooth signal that nearby devices will then detect in the Find My network (hyperlink apple). The AirTag location information goes into the iCloud, where you will then be able to see your device on a map within the Find My app. If your AirTag is out of range of your iPhone's Bluetooth signal, it will give you the location of where your AirTag was found last. From this point, it will continue to provide the most recent location until you move into range of the Bluetooth signal again, and once in range again, the Bluetooth tracking of the AirTag will resume. When in range, the AirTag has a feature to play a sound to help you find your missing item. Apple announced that the AirTag would work more efficiently with iPhones and devices with Apple's U1 Chip, enabling Ultra Wide Band. The AirTag connected to the U1 chip can offer precise location rather than the general area due to Ultra Wide Band technology. So if you own an iPhone 11, 11 Pro, 11 Pro Max, iPhone 12, 12 mini, 12 Pro, or 12 Pro Max, you'll be able to see the distance to your AirTag as well as what direction you need to go to get to it (Hyperlink Apple). 
If you do not own the newer versions of the iPhone, the base-model AirTag works using Bluetooth signals for:
iOS 14.5 or later

iPhone SE, 6S or Later

iPod Touch 7th generation or later

iPad Pro 5th generation or later

iPad Air 2 or later

iPad Mini 4 
And even though you won't get the direction and distance to your Apple AirTag, you will still be able to see its general location through your devices' Bluetooth signal and the Find My app.
AirTag also has an option called Lost Mode. When Lost Mode is enabled you will get a notification anytime a device goes within the area of your AirTag, and Apple has added a feature that gives consumers the option of allowing their contact information to be tied to their AirTag so if found by a stranger, they will be able to contact you with the location of your AirTag. 
Apple has addressed that no location data or history will be stored on your AirTag. In addition, the owner of the AirTag will be the only person able to see its location. Even the devices that send the signals to and from the AirTag will remain anonymous. A few other features of the AirTag include long battery life and the AirTag is water resistant. Apple claims that your AirTag should be able to last over a year running off of a standard battery. 
Apple has announced that the AirTag will be available to purchase for $29, or sold in a pack of four AirTags for $99.
Sunvera Software is the best iOS app making firm in Orange County. We build intelligent iOS mobile applications with UWB compatability. Schedule a free consultation today.