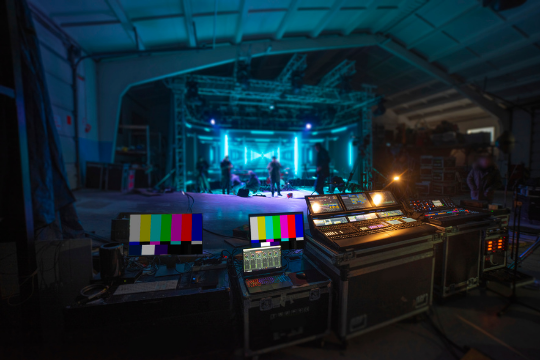 In today's world, the ability to connect and create relationships with your community is critical. Without a strong virtual presence, you are limiting yourself from reaching a large portion of potential supporters.
Livestreaming is the latest trend in online engagement. You can currently livestream anything from events, book launches, weddings, and more. But what makes a successful livestream? And how can you make sure your virtual event is engaging for your audience?
Increase In Livestreaming Virtual Events
Livestreaming has been increasing in popularity for virtual events. This is for good reason. Because livestreaming video content can increase site traffic and search engine optimization (SEO), it has become the go-to strategy for virtual event organizers.
Livestreaming your event allows you to take advantage of SEO benefits because Google loves fresh, updated content. If you are livestreaming an event, this allows you to increase your livestream movie's SEO value by uploading it to sites like YouTube or Vimeo.
According to OptInMonster, 89% of video marketers say that video marketing gives them a good ROI.
How To Host and Livestream a Virtual Event
Now that you understand the importance of livestreaming virtual events, let's take a look at how to go about hosting one.
1. Choose the right platform
There are a variety of platforms that you can use to livestream your event. The most popular platforms are Facebook, YouTube, and Periscope.
Each platform has its pros and cons. For example, Periscope is known for its live interactions with viewers. In contrast, YouTube allows you to upload pre-recorded videos, which gives you more control over the final product.
2. Choose a live streaming device
Livestreaming devices can help you stream your virtual event from almost any location.
Some popular live-streaming devices include the Livestream Broadcaster, the Teradek VidiU, and the Mevo.
Choosing the right device will depend on your budget and needs.
3. Promote your event
Once you have chosen the platform and device for your live streaming virtual event, it's time to start promoting it!
Use your existing social media channels to promote your event, and make sure to create a dedicated event page on your website.
In addition, email lists are a great way to let people know about your upcoming event.
4. Prepare for the livestream
Before the day of the event, make sure to test your equipment and check the internet connection.
Additionally, make sure to have a backup plan in case of technical difficulties.
On the day of the event, be sure to start promoting it early and keep an eye on the livestreaming device to make sure everything is going smoothly.
5. Host a Q&A session
One of the best parts about livestreaming your virtual event is that you can interact with your audience.
Host a Q&A session by taking questions from viewers via Twitter or email. This helps to increase engagement because it makes the livestream feel more personal to the viewers, which increases viewership and loyalty.
6. Host giveaways
Virtual event guests are more likely to engage with your livestream if there are prizes involved.
Host a giveaway at the beginning of the livestream so that viewers know what they're playing for. This will keep them watching throughout the entire event.
7. Keep it short and sweet
It is important to keep in mind that not everyone will have the time to watch your entire livestream.
Make sure to keep your event short and sweet, with breaks for Q&A sessions and giveaways. This will ensure that viewers don't get bored and are more likely to stick around until the end.
By following these tips, you can successfully livestream your virtual event and reap the benefits of SEO and increased brand awareness, site traffic, and community engagement.
An App for Virtual Events Can Improve Viewer Experience
Hosting a virtual event is an excellent way to increase traffic and engagement to your website, as well as attract new followers. That said, it can be difficult to make every attendee feel like they're physically in the same room as you, especially if you have a massive audience. Luckily, livestreaming apps make it possible for virtual event guests to engage with the host and each other in a way that feels more personal.
Virtual Event Apps Make It Easy for Attendees to Interact
To make the livestreaming experience feel as interactive as possible, many organizations use virtual event apps to help attendees connect. Virtual event apps allow guests to communicate using video chat, send messages and GIFs, and participate in Q&A sessions. This creates a more interactive livestream experience that makes guests want to keep coming back for your next event.
Virtual Event Apps Make Livestreaming Easier for the Host
Hosting a virtual event can be extremely time-consuming, especially if you're managing multiple platforms (i.e. Facebook, Twitter, and your website). Virtual event apps make it easier for the host to keep track of everything that's happening during the event. With a virtual event app, hosts can see which attendees are online, view conversations between guests, and moderate Q&A sessions. This takes some of the stress off of the host and allows them to focus on interacting with guests in real-time.
Livestreaming has many benefits when it comes to marketing your business. Although it is fairly simple to livestream your event in person, it can be much more difficult to do so when broadcasting from a remote location. Fortunately, virtual event apps make livestreaming easy for the host and guests because they cut down on lag time between hosts and guests, provide an interactive experience, and make it easy for hosts to keep track of what's happening. Now all you need to do is find a reputable virtual event app development company to take care of this process for you!
Sunvera Software develops next-level software applications from start-to-finish. We are a premier software and mobile app development agency specializing in healthcare mobile app development, custom mobile app development, telehealth software, sales dashboards, custom mobile app development services, retail software development, supply-chain software, ecommerce, shopify, web design, iBeacon apps, security solutions and unified access software.
We are proud partners with Amazon AWS, Microsoft Azure and Google Cloud.
Schedule a free 30-minute call with us to discuss your business, or you can give us a call at (949) 284-6300.