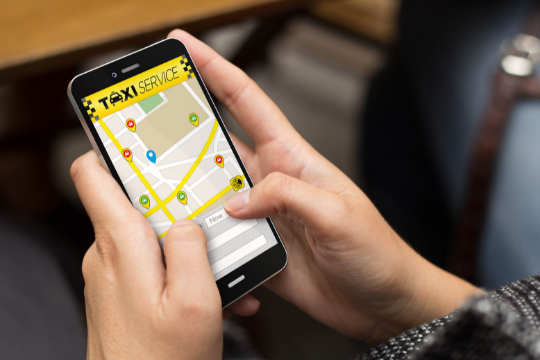 The ride-hailing industry has become one of the most potential markets for entrepreneurs. Easily accessible digital solutions have made it possible for everyone to join the market with the least capital. Launching or creating a taxi app does not require millions of dollars anymore.
Market analytics indicate a huge growth in the demand for taxi services in the upcoming years. Current traffic conditions in every region have forced consumers to shift to convenient services. There is nothing more convenient than hiring a taxi with a few clicks on your smartphone. Uber, Lyft, and many other ride-hailing apps are the perfect business models that generate millions of dollars in revenue.
How to Create a Taxi App?
Not having a strong digital presence can throw your business out of competition.  You must invest to build an app like Uber that ensures better and optimized ride-booking services for the users. The whole process of creating a taxi app is divided into seven primary steps.
Instead of going into the technical details of taxi app development, we are going to talk about strategic steps that lead to a successful taxi app launch.
1.    Identify the Pain Points and Gaps in the Current Market
No service, product, or app is perfect and there are always certain points where consumers have to compromise. Market analysis will require a deep understanding of the target market and what they expect from a taxi app. Taxi booking app builder companies can help you to identify the unique aspects of the target market.
The ultimate goal of this initial step is to make your taxi app stand out from the rest of the competitors. Great market research is the first step towards a successful taxi business.
2.    Determine the Expertise of your App
A generic taxi app like Uber or Lyft will offer different general services. Competing with industry giants is a lot easier when you focus on micro factors. You need to understand and implement features and services that make your service worth it and better than the competitors. The taxi app developer can create customized apps and digital solutions and you just need to come up with a creative idea for the app.
3.    Revenue Model and Business Strategy
Revenue generation is the ultimate goal of every business and service provider. Apart from development, this is one of the most complicated and critical steps in the taxi business development. Different ride-booking services follow different strategies and models to generate income.
Make sure that your deliverables offer a significant ROI for the customers and the business model improves the traveling standards for the users.
4.    Creating App Documentation
No project can deliver the desired results without professional technical documentation. Everything will be explained in the documentation, including taxi app features, business model, revenue generation features, and development timeline.
You will explore what features and services you are going to offer and how will you make it happen. A professional development company will use this documentation throughout the development phase as a guideline.
5.    Get your Taxi App Ready
Taxi booking app solutions require proper research and understanding of the ride-booking industry. Only taxi app development experts can deliver the desired results and a fully functional ride-booking solution for smartphone users. Not every user is tech-savvy so the diversity of the audience must be considered in the development phase.
From UI to UX, every minor and major aspect of the ride-booking app should add value to the users' experience. Most intelligent businesses fail due to a lack of proper digital existence. Taxi apps should be supported by all available devices and operating systems in today's market.
6.    Market your Taxi App
Let the development team do the magic. Depending upon the compatibilities of the developers, the final app will be ready in a few weeks. The next step is to get an audience and exposure in the right market. There are certain marketing strategies for taxi apps. We are going to explore those options in the next section.
7.    Build a Brand from the Taxi App
The real challenges begin once the app is available for the users in the market. The marketing and development team needs to keep regular checks on the reviews, issues, features, and performance of the app in the market. Some challenges may arise with time but the developers should resolve these issues ASAP.
What is the Average Development Cost for a Taxi App?
Depending upon the target market and your development company, a fully functional taxi booking app development might cost $67,000 to $150,000. The final cost may vary depending upon your custom requirements for the features of the service.
How to Market a Taxi App?
Promotion and marketing campaigns for the taxi app are going to take some time. In the initial phase, you might have to offer special discounts and coupons for the customers. After the development phase, marketing strategies are going to define the fate of your taxi app. Here are some practical marketing tips for taxi apps:
Create and design creative branded booklets for distribution in local areas
Create digital and hardcopy flyers with the promotions and discounts
Spend on paid ads to promote your taxi app on Play Store and App Store
Spread the word on all social media platforms through content and ad campaigns
Collaborate with local businesses to get more exposure for your app
Apart from these primary steps, a complete marketing strategy should be designed. In the end, stronger marketing strategies are going to yield results and revenue.
Is Creating a Taxi App Worth it in 2021?
Current economic uncertainty has forced consumers, businesses, and the general public to think about different income streams. As transportation is one of the main pillars of modern society, taxi apps are going to thrive in 2021, and 2023 is said to be the peak year for such services.
Uber-like taxi apps can help you to build an established business from scratch. Now is the time to create a mobile app like Uber, but you want to ask yourself what new features you are offering for the public that do not currently exist.
Sunvera Software develops next-level software applications from start-to-finish. Schedule a free 30-minute call with us to discuss your business, or you can give us a call at (949) 284-6300.